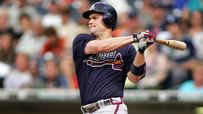 Matt Diaz is a career .310 hitter.
Welcome to SportsNation! On Wednesday, Atlanta Braves outfielder Matt Diaz stops by to give his thoughts on the 2009 MLB playoffs.
Since joining the Braves four seasons ago, Diaz, 31, has become a strong part of Atlanta's offense. This season, Diaz hit .313 for his third season of batting over .300 with the Braves. The Florida State product began his career with Tampa Bay in 2003 and played there for two seasons. He moved on to Kansas City in 2005 before coming to Atlanta in 2006.
Send your questions now and join Diaz Wednesday at noon ET!
More Special Guests: Previous chats | SportsNation
Buzzmaster
(11:53 AM)
Atlanta Braves' Matt Diaz will be here at noon ET to take your questions!
Buzzmaster
(11:54 AM)
Matt is here early!
Steve (Hoboken, NJ)
Hey Matt. How do you think the Braves would have matched up against the remaining NL playoff teams?
Matt Diaz
(11:55 AM)
The way we were playing at the end of hte year, we would have matched up fine. I think we won the season series against the Dodgers and almost every game we played against the Phillies was close.
Dawn Baker (Tennessee)
Matt, Philly is looking pretty tough in the playoffs. What do the Braves have to add to compete?
Matt Diaz
(11:55 AM)
We feel we have one of hte best pitching staffs in baseball already, so if we can get more consistent offensively, we can compete.
Dan (Miami, FL)
What is the toughest park to hit in? Your favorite?
Matt Diaz
(11:56 AM)
Favorite park to hit in is Philly. Toughest park to hit in is San Francisco. I don't know if the numbers say that, but that's what I feel.
Steven (Nj)
Are you rooting for the phillies or against them since they ar in your division?
Matt Diaz
(11:57 AM)
It's hard to explain, but I really don't root during hte playoffs. I've invested so much emotions during the regular season, I don't give much emotion during the playoffs.
Danny H (Atlanta, GA)
Are you still reading the Science of Hitting by Ted Williams before every season?
Matt Diaz
(11:58 AM)
I don't do it any more, but I did it literally every year between 9th grade and my sophomore year of college. I made four different book reports on it for teachers who hadn't seen how skinny it was.
Michael Brown (Spartanburg, SC)
Matt, how do yourself and your teammates feel about the job Frank Wren has done at assembling the squad? Do you guys feel confident in him finding the missing power bat the Braves so desperately need this offseason? Best of wishes and keep up the good work!
Matt Diaz
(11:59 AM)
We have a ton of confidence in Frank. You look at his track record especially the Renteria trade. When we needed a centerfielder, he got us Mark Kotsay. His limited track record is pretty good so far.
Dan (Syracuse, NY)
Matt - I am a huge Braves fan and I think that you are a great role model for all baseball fans. You play the game with an intensity that is not often seen in the current game, and you play the game fair (the way it is supposed to be played). I have a few questions for you. My first question is: I know you are a very religious person, how does that have an impact with how you play the game? My second question is: This season you looked like you never have before. I am not saying you weren't in shape previous seasons, but this year you looked so skinny and ran really fast. How did you get in such good shape during the off-season? Also, you were clearly the fastest guy on the team this year, can we expect to see more stolen bases next year?
Matt Diaz
(12:01 PM)
My relationship with God, I have a higher sense of accountability than even myself or teammates or coaches. It motivates me to play even harder. I did P90X this offseason, while it is a good program and eating program, I don't think you need it, but it did help me to learn how to eat smarter.
J.B. (Dunmore, PA)
Matt: Big Braves fan up here in Yankee/Phillies Country. Where do you feel most comfortable playing: LF or RF?
Matt Diaz
(12:01 PM)
I grew up a catcher. Went to college a catcher. the first outfield position I played was right field, so I feel more comfortable there. But I feel longterm, I'll play more left field.
Bob (Denver)
Rollins smoked the fastest pitch he'd seen ALL season the other night... what's the fastest pitch you've ever squared up? Do you ever check out those kinds of stats after the game?
Matt Diaz
(12:02 PM)
No. I try not to look at too many stats after a game. I remember in the minors, I faced a guy who hit 100 consistently. I remembered getting a hit off of him and it felt weird coming off the bat.
Keith (Naples, FL)
How's that P90-X working for you? How much of a better hiter do you think it made you?
Matt Diaz
(12:03 PM)
Hitting wise, it didn't help, but overall in shape wise, and stamina wise, it helped. So, maybe yes, at the end of the season, it made me feel better at the plate.
Andy Johnson (Fulton, Missouri)
Matt can you tell us whats it like playing for by far the best coach in the game today?
Matt Diaz
(12:04 PM)
Bobby is unbelieveable. He has a reputation of being a players manager and it's true. My first time shaking my hand, he said, I've seen your film and I think you can help us. For a guy that had been sent down to the minor leagues 3-4 times before, that gave me all the confidence in the world.
Steven (Nj)
Who were your favorite players growing up?
Matt Diaz
(12:05 PM)
I grew up in Lakeland Florida, where the Tigers spring training. I was a big Matt Nokes fan, Travis Fryman, Frank Tannana. The only team we could watch on TV was Ryne Sandberg and Dale Murphy.
Carl (San Francisco, CA)
Do you think there should be instant replay in baseball? Some of these missed calls are ridiculous!
Matt Diaz
(12:06 PM)
Being a baseball purest growing up, I think absolutely not. But if I were on the wrong side of one of these calls in the playoffs, I would probably change my stance.
David (Atlanta)
How impressed have you been with Tommy Hanson?
Matt Diaz
(12:07 PM)
He's the real deal. We knew he had great stuff, but what we didn't konw until we played with him is how professional he is. I can't speak highly enough of Tommy.
J.B. (Dunmore, PA)
Last question from me, I promise: Is there any particular pitcher that you feel you hit well?
Matt Diaz
(12:08 PM)
Before First Take today, they were bringing up my stats against certain pitchers. It was funny to see them for the first time. It seems I have hit Johan Santana well in the past. Which is fun to think about because he is a hall of fame caliber pitcher.
dan (nyc)
wut do u expect of the braves in 2010?
Matt Diaz
(12:09 PM)
We had a taste of going on a run at the end of the year and a taste of playoff atmosphere. If we don't have that at the end of the next year, we won't have accomplished our goal. That said, I hope I'm back with them next year. The offseason is a crazy time.
A.T. (Mobile, AL)
Having been to a few different teams not exactly known for their successes at the time, was there any sense of intimidation coming to the Braves in light of their success through the 90s and early 2000s?
Matt Diaz
(12:10 PM)
I was definitley nervous. I felt kind of coming into spring training in 2006 that I couldn't make the team if I couldn't make the team in Tampa and KC before that. That said, Bobby gave me a vote of confidence that helped going into the spring.
Adam (Clemson, SC)
What are your thoughts on Bobby's retirement next year, and any possible replacements?
Matt Diaz
(12:11 PM)
My thougts are just what a career. hopefully I'll play for him for what could be his last year. I am glad to see that he'll be a part of the Braves organization with the way the retirement was structured.
Hal P (Atlanta)
If you were commissioner for a day what would add or change about the game.
Matt Diaz
(12:12 PM)
I would change the playoff scheduling. I think there should be one game in each series that would have to be a day game, even in the World Series. To try and draw in the younger crowd. I would have less off days, to try and get it in before the cold weather. And I would get Minnesota to have a retractable roof. That's going to be cold.
Jeff (Oakland, CA)
What size and weight bat do you use?
Matt Diaz
(12:12 PM)
I use a 34 inch bat and it's about 32 ounces.
Payne (Atlanta)
Who is your favorite first baseman to talk to after you get a single and standing on first base? What do you talk about?
Matt Diaz
(12:13 PM)
I like to talk to any first baseman, because that means I'm on first base and I'm in a good mood. Conversations differ greatly, how guys are doing at that time.
Andy Johnson (Fulton, Missouri)
Bobby seems like he is always cool on the bench until he explodes can you as a player see when he is about to blow up and know when he will do it
Matt Diaz
(12:14 PM)
He only explodes at umpires, so it never really comes at players. Yes, you can feel it coming. If a player of Bobby's is on the field and arguing a call and feels they were wronged in a call, you know Bobby will run to his defense.
Matt Diaz
(12:15 PM)
Thank you guys for taking the time to type in. Thank you guys for following my career. It's been fun playing in Atlanta. I hope to stay there for a while.