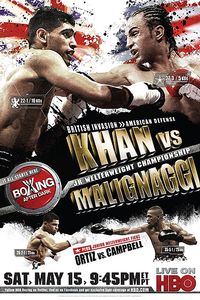 Welcome to SportsNation! On Wednesday, we will go inside the ring when light welterweight Amir Khan stops by to chat about his title defense against Paul Malignaggi on Saturday.
Khan (22-1) takes on Malignaggi (27-3) Saturday from Madison Square Garden New York City live on HBO at 9:45 p.m. ET/PT. The fight is just Khan's second title defense since winning the belt last July.
Khan won a silver medal in the 2004 Summer Olympics at the age of 17, becoming the youngest British Olympic boxing medalist. Since 2008, Khan has trained with Freddie Roach, who also trains Manny Pacquiao. Khan has sparred with Pacquiao at times to help Pacquiao prepare for his fights.
Send your questions now and join Khan Wednesday at 12:15 p.m. ET!
More Special Guests: Previous chats | SportsNation
Buzzmaster
(12:16 PM)
Amir Khan will be here shortly to take your questions. He takes on Paulie Malignaggi Saturday at Madison Square Garden.
Buzzmaster
(12:17 PM)
Amir is here!
Steve (Minneapolis)
Hi Amir, I was wondering what you do before a big fight away from home soil to help prepare yourself mentally, and if you are doing anything different to prepare yourself to fight Malignaggi?
Amir Khan
(12:18 PM)
Mentally, I was halfway there anyway, because I always train in L.A. I'm used to being away from home and training. I know I'm not going to have the home fans there. This time, the crowd might be smaller for me. I think I have a lot of fans in New York, because of the Muslim community here and some fans from the UK are flying in.
Astro (New York, NY)
Welcome to NY! Will you try to KO Paulie?
Amir Khan
(12:19 PM)
I never go into a fight trying to knock a guy out. That's when you make a mistake. We're going to go in with a gameplan and follow instructions from Freddie.
jason (los angeles )
hey amir, hows new york city been for you? Where are you training in NYC to finish training camp for Saturday May 15?
Amir Khan
(12:19 PM)
I've been treated really well out there. A lot of people have recognized me, taken pictures with me. They've shown me a lot of respect over here.
Amir Khan
(12:20 PM)
I'd love to come back and fight in the Garden again, in the big, big arena.
Courtney Jackson (Lindenwold, NJ)
Hello amir, how do you think you can handle paul malignaggi's his footwork and speed? If so, how can you counter that speed.
Amir Khan
(12:20 PM)
The sparring partner's I've had have been quicker than he. I think I'm quicker than him with handspeed and footwork. What I've been working on with Freddie will help me.
Jaff (New York)
Amir- coming from a bi-cultural background, do you feel this helps, hurts or doesn't affect you in terms of additional pressure and/or support?
Amir Khan
(12:22 PM)
There's always negativity going around with Pakastani and Muslims. But that's a small percentage and a lot of it is positive. When I'm fighting in England, you look around and it's all different colors - Chinese, Muslims, blacks, whites, everything. I want to do that in the U.S. too.
lola (ny)
what are your plans after this fight? vacation?
Amir Khan
(12:22 PM)
Yeah. After the fight, I normally go on vacation and rest up. I normally like to go. I don't know where yet. I'll probably go away with my friends and take some down time.
Mohammad (California)
What has been the most valuable thing Freddie Roach had taught you?
Amir Khan
(12:23 PM)
The most valuable is probably to use my brains. Go in there and think about what I'm going to do next. Stay one step ahead of my opponent. Stick to the gameplan. Listen to Freddie.
Brad (Dallas, texas)
When your not in your training camps at Wild Card preparing for your fights, do you still train every day or are there periods of time where you dont train at all?
Amir Khan
(12:24 PM)
There comes a time when I don't do anything. I just chill out. I think it's good for my body. I have a fast metabolism, so I don't put on a lot of weight. I'm lucky like that. I keep busy with my sponsorhips and other things.
tom (hackensack)
Amir, have you ever seen a fighter fall out of the ring and land on tv equipment like Cintron did last weekend? any thoughts on that?
Amir Khan
(12:25 PM)
I saw it last week. I've seen a few guys have that happen. A couple of guys in amateur fights fell out on their backs. It happens very little. It was a shame it happened to Cintron. I've also seen people fall over the ropes. Crazy stuff man.
Doug (Coral Spings, Fla.)
Hi Amir --Are you at all worried about getting a decision if it goes to the scorecards because you are fighting in Paulie's hometown? Good luck.
Amir Khan
(12:25 PM)
No. I'm not scared of that. I think I'll have beaten him convincingly. But I don't see it going the full distance. I think we end it before them.
Kris (Bethpage)
Amir, after sparring with manny, is he really THAT good?
Amir Khan
(12:26 PM)
Yes he is. I sparred him two years ago. It gave me confidence in training with him. When we sparred, I couldn't believe how quick he was and good he was. You see him on TV, but when you're in the ring with him, that's when you see how good he is.
Cameron K (from england)
Hey i just wanted to know how many times a year you will be fighting. including this year lol
Amir Khan
(12:27 PM)
I like to fight three times a year. Now that I'm at this level and holding the world title. I'd like to fight in the States, go back home and fight and then maybe one more in the States. I'm still young, so I'd rather do it now.
Tevin (TX)
Amir, what has Freddie done to improve your chin?
Amir Khan
(12:28 PM)
We've worked a lot on defense and not jumping in. The mistakes I'd make going forward was lunging in. As I'm going into an opponent, I would be jumping into a punch. That makes it a harder punch. Plus I'm at a different weight. It's helping me make the weight much easier. Earlier fights, I was too big, too muscular. Now we have more muscle in the legs.
Gopal (San Francisco)
What do you think of the comparisons that people make between you and Prince Naseem Hamed?
Amir Khan
(12:29 PM)
Me and Prince are totally different fighters. The only thing that we have in common are we are both from England and both are Muslim. But we have different fighting styles and are two different people. He was a great fighter, but a different style. I'm more of a boxer than a fighter.
Steven (Linlithgow, Scotland)
Do you think Mayweather/Pacquiao will happen this year/at all?
Amir Khan
(12:30 PM)
If it should happen, I think it will happen in the next 12 months. I think it will be the biggest fight in the history of boxing.
Amir Khan
(12:30 PM)
If Mayweather got hit by Mosley. He doesn't get hit normally. If he gets hit by Pacquiao with his power, let's see how he copes with it.
James (Athens, GA)
Is it nice going into a fight knowing you can't get hurt? Paulie couldn't hurt a fly.
Amir Khan
(12:31 PM)
Every fight is a dangerous fight, no matter what. You have to go in there focused. What happens is when you go into a fight thinking it will be easy, that's when you get hit by shots you don't see. I can't make any mistakes. I'm focused and not thinking like that.
Amir Khan
(12:32 PM)
Thanks for supporting me in my debut on the 15th on HBO. Tune in and see me fight. I'm sure I will be winning over a lot more fans. This has been my dream from Day 1, to fight. I'll make the most of it.