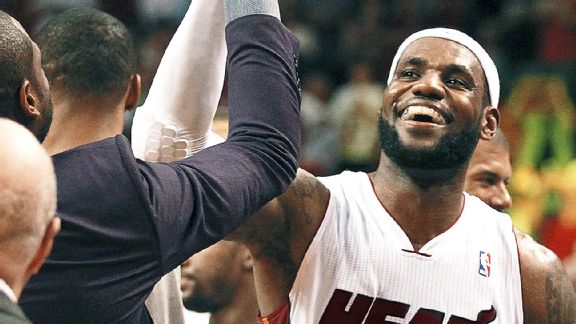 Charles Trainor Jr./Miami Herald/MCT/Getty ImagesNo other athlete in America was searched for on Google as much as LeBron James.
It looks like the United States has LeBron James on its collective mind.
[+] Enlarge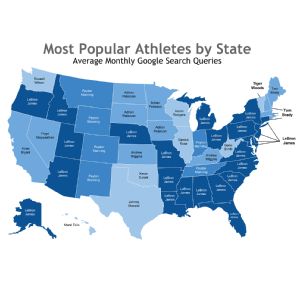 besttickets.comLeBron, in dark blue, clearly dominates the map.
LeBron topped the list of the most-Googled athletes in the country, coming in first in 24 of 50 states, according to besttickets.com. His influence extends into unexpected places -- why else would New Yorkers be searching for him more than, say, Derek Jeter? The other most-Googled athletes make a certain kind of geographic sense: Peyton Manning takes a swath of states near Colorado but also trends in his former homes of Indiana and Tennessee, and Tom Brady is followed by most of New England.
LeBron, however, is so much of a cultural force that even legends like Kobe Bryant find their influence limited to either a single large state or a few smaller states located around their main teams. It's like LeBron simply fascinates the majority of sports fans in this country in a way that no other athlete has for a long time. We'd imagine this is roughly what Michael Jordan's chart would look like if he played in the digital age.
If this were a presidential election, LeBron would just barely eke out a win in the electoral college -- four votes over the required 270 electoral votes needed to become president. Can you be King and President at the same time? Good thing we don't elect leaders through Google. A surprise runner-up? Bryant, who despite winning only a single state would come in second place with 55 electoral votes. It helps when you play in a state with almost 12 percent of the total population of the United States.
A few other interesting highlights:
Hawaii seems to be following either Manti Te'o's nascent NFL career or the latest updates on his fake girlfriend scandal.
Bad news for Tony Romo: Johnny Manziel hasn't even played a down in the NFL yet fans in Texas already can't get enough of him.
Geno Smith was a force of nature during his time at West Virginia, and the state either misses him a lot or is following his NFL career with interest.
People in Vermont inexplicably seem to enjoy following Tiger Woods. We're honestly not sure why that is.
Kansas loves Googling Andrew Wiggins -- obviously -- but so does Kentucky. This might be out of envy or spite. Either way, it's a little strange.