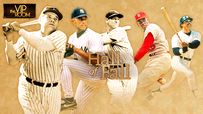 Baseball's postseason history is chock-full of legendary performances, mysterious happenings, amazing plays and epic failures. Now, for the first time, fans can vote on the players, coaches, teams and moments that have stood out the most over countless Octobers as part of
ESPN.com's Hall of Fall
.
George Herman Ruth
owns the most recognizable nickname in sports, "Babe," and has also been called "The Bambino" and "The Sultan of Swat." Now he can add "The Ultimate Mr. October" to his list of monikers.
Long considered the greatest baseball player of all time, Ruth has just been dubbed the greatest player in the history of postseason baseball. After a month of voting on ESPN.com, Ruth finished first among both SportsNation voters and a group of ESPN experts and heads a class of five charter members in The VIP Room of ESPN's Hall of Fall.
Joining Ruth are Yankees closer
Mariano Rivera
, the only active player among the Hall of Fall enshrinees; Yankees first baseman
Lou Gehrig
; Cardinals pitching great
Bob Gibson
; and the original "Mr. October,"
Reggie Jackson
.
The five were chosen from among a group of 30 finalists, but Ruth reigned supreme. Of course, it's hard not to pick someone who dominated as both a hitter AND a pitcher. Before he even joined the Yankees, Ruth starred in the World Series as a left-handed pitcher for the Red Sox, and had a 3-0 record with an 0.87 ERA. Then as a hitter, his stat line was .326/.467/.744 with 15 home runs and 33 RBIs in 41 games. He was also a seven-time World Series champ and hit three home runs in a Series game not once, but twice. There was nobody better, before or since.
Following Ruth is Rivera, who finished second in the voting and is still building his postseason résumé after his two-inning scoreless stint Thursday night in Game 2 of the World Series. Adding in this year's playoff numbers, Rivera is 8-1 with an 0.76 ERA, the best ever among pitchers with a minimum of 30 innings pitched. He's now thrown 130.0 postseason innings, allowing only 81 hits and 20 walks while striking out 106. Impressive.
Ranking third was Ruth's longtime teammate, Lou Gehrig. The "Iron Horse" was nearly an impossible out in the seven World Series in which he appeared. Not only did he put together an incredible line of .361/.477/.731 with 10 homers and 35 RBIs in 34 games, but he was a six-time World Series champ and over one eight-game stretch from 1928 to 1932, he went 15-for-28 with seven home runs and eight walks. And the Yankees won all eight games.
Finishing in a tie for fourth were Bob Gibson and Reggie Jackson. Perhaps the greatest big-game pitcher of all time, Gibson had a 7-2 record with a 1.89 ERA and eight complete games in nine World Series starts. He was named the World Series MVP in 1964 and 1967, won two Game 7s and holds the World Series record for the most strikeouts in one game, with 17.
And then there's Jackson, who won three World Series titles with the A's and the Yankees, earning two World Series MVP honors in 1973 and 1977, swatting 18 homers and driving in 48 runs in 77 postseason games. And no one can forget his three dramatic home runs on three swings against three different Dodgers pitchers and the chants of "Reg-gie, Reg-gie" in the series-clinching Game 6 of the '77 Series.
Finishing just outside the top five and missing enshrinement in the Hall of Fall were, in order, Yogi Berra, Derek Jeter, Sandy Koufax, Mickey Mantle and Curt Schilling. But there's still hope -- they will be up for election next October when the Hall of Fall resumes with its second class of inductees.
Note: The ESPN research team of Mark Simon, Mike Lynch, Dan Braunstein, Greg Dohmann, Gregg Found, Jeremy Lundblad, Justin Havens, David Schoenfield and Rob Neyer contributed to this project.