Rank 'Em: Alice in Chains Fantasy League
Created: August 31, 2009, 11:24 AM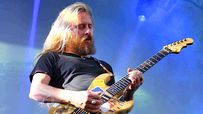 Jerry Cantrell fully expects to dominate. Did he get off to a good start with his draft?
It's football season. Let's rock 'n' roll! Literally!
Jerry Cantrell of the legendary rock band Alice in Chains has stepped forward to create an all-star league of rock heavyweights to go head to head this season in fantasy football. Scott Ian of Anthrax, legendary axeman Zakk Wylde and former Guns N' Roses bassist Duff McKagan are just a few of the participants. Follow the league and trash talk all season by clicking over to The Life.
Off the field, the gang will be raising money for a very worthwhile cause. All season, you can bid on one-of-a-kind memorabilia being donated by each performer with the proceeds going to the winner's favorite charity. Stay tuned for details.
Below you will find all nine celebrity members of the Alice in Chains Charity League as well as ESPN Fantasy expert Matthew Berry, who makes it an even 10. Scroll over the photos to see the players they selected, and submit your rankings for which person drafted the best team!
Did Cantrell make a wise pick with Brett Favre? Did Vinnie Paul guarantee a strong season by snagging Larry Fitzgerald? Or did expert Matthew Berry one-up them all? Rank 'em!
Alice in Chains Charity League: Click here for full rosters and league standings
Alice In Chains Charity League

Loading...

&nbsp