WIMBLEDON -- With the light fading over Centre Court, Rafael Nadal climbed over the net and embraced Juan Martin del Potro as the crowd gave both players a standing ovation.
Some four hours earlier Wednesday, defending champion Roger Federer bowed out in a five-set duel against Kevin Anderson. But World No. 1 Nadal and No. 4 Del Potro served up the match of the day -- and possibly of the Wimbledon Championships -- as the Spaniard advanced to set up a semifinal showdown against Novak Djokovic.
Cue social media storm:
The victor and the vanquished. Sportsmanship at its finest.

After four hours and 47 minutes of pure theatre, @RafaelNadal shares a touching embrace with Juan Martin del Potro 👏#Wimbledon pic.twitter.com/TykAQAPReH

— Wimbledon (@Wimbledon) July 11, 2018
The best match I've ever seen! Big respect!!!

— Simona Halep (@Simona_Halep) July 11, 2018
Absolutely amazing 😉 effort from Vamos-Rafa toughing out Delpo what great spirit in there embrace 👊🎾😎👍💪🔥

— Brad Gilbert (@bgtennisnation) July 11, 2018
Rafael Nadal reaches the #Wimbledon semifinals with an epic 7-5, 6-7(7), 4-6, 6-4, 6-4 win over #5 Juan Martin del Potro.

Four hours, 48 minutes.

Nadal will face Novak Djokovic for a spot in the final.

— Ben Rothenberg (@BenRothenberg) July 11, 2018
Del Potro falls on the final point of the match. Nadal climbs over the net and strides to Delpo's baseline to embrace him. Sportsmanship #Wimbledon pic.twitter.com/Lpe98B9mKd

— Nick McCarvel (@NickMcCarvel) July 11, 2018
Incredible tennis from #Nadal and #DelPorto. Some of the best tennis all #Wimbledon. Both guys giving absolutely everything but Rafa comes out on top. Phenomenal stuff!

— Pat Cash (@TheRealPatCash) July 11, 2018
Andy Murray on Nadal-Delpo classic: "It was a great match and I felt really lucky to watch it." #Wimbledon

— Jake Davies (@jakedavi5) July 11, 2018
Take a bow, you two. That was one incredible match. #Nadal #DelPotro #Wimbledon pic.twitter.com/TdEn24Nvlu

— Rogers Cup (@rogerscup) July 11, 2018
Nadal even had time for a rest when he took a seat in the front row of Centre Court:
A front-row seat on Centre Court...#Wimbledon pic.twitter.com/RATrKv9Xiy

— Wimbledon (@Wimbledon) July 11, 2018
Del Potro said afterward: "I enjoyed a lot of the match of today. The crowd was amazing. They were excited to keep watching tennis between Rafa and me. We played great points. We [ran] a lot. I think we did good, [had a] good game."
And on what they said during their embrace at the end, the Argentinian added: "Nice words from both. We have a lot of respect for each other. Rafa is a great champion."
The streak is over
Some tasty stats from Federer's quarterfinal loss against Anderson -- and you can check more out here.
85 games won on serve...@KAndersonATP is the first player to break the Roger Federer serve at #Wimbledon since Tomas Berdych in last year's semi-final pic.twitter.com/nLrPrFX2nY

— Wimbledon (@Wimbledon) July 11, 2018
A rare sight at Wimbledon as Roger Federer's serve is broken by Kevin Anderson, ending a streak of 85-straight holds for the defending champion which dated back to the opening set of last year's semifinal against Tomas Berdych. Pete Sampras' record of 118 successive holds between Wimbledon 2000 and 2001 remains intact.
Kevin Anderson took his first-ever set off Roger Federer in five meetings, including Wednesday's Wimbledon quarterfinal. The South African had lost each of his previous 10 sets against Federer. It also ended Federer's streak of 34 successive set wins at Wimbledon, the joint longest by any man in the Open Era (Federer achieved the same at the All England Club between 2005 and 2006).
After ejoying perhaps the biggest win of his career, Anderson might want to celebrate by buying a new hat -- it seems not everyone is a fan of his current headgear!
Can someone run down a new hat for Kevin Anderson? He's out on CT 1... Go quick

— Mardy Fish (@MardyFish) July 11, 2018
It's (not) coming home, via Wimbledon
With England playing Croatia in the World Cup semifinal on Wednesday, football fever gripped Wimbledon -- although the All England Club still did not break ranks from its decision not to show the match on the big screens around the grounds.
It did, however, jump on the "It's Coming Home!" bandwagon with this meme of Cliff Richard's infamous 1996 Centre Court singsong during a rain delay:
We couldn't resist... #ItsComingHome #Wimbledon #WorldCup pic.twitter.com/YmOsrlKBKv

— Wimbledon (@Wimbledon) July 11, 2018
Sir Richard Branson, a Royal Box guest, got into the festivities with his Gareth Southgate-inspired waistcoat:
Looking forward to #Wimbledon this week, and of course @england v Croatia in the #WorldCup #ThreeLions https://t.co/j8W7iBmPun pic.twitter.com/DEkfWGqNIz

— Richard Branson (@richardbranson) July 11, 2018
And while there were plenty of England shirts on show at SW19, Djokovic took the time during his quarterfinal against Kei Nishikori to sum up every emotion England fans went through.
When you remember England is in its first World Cup semifinal in 28 years:
When it goes to extra time:
When England finally bowed out:
A quick dash home
The four-hour, five-set epic between Federer and Anderson finished just over one hour before the World Cup semifinal kicked off in Russia -- safe to say not many people stayed for the "Battle of the Big Serves" between John Isner and Milos Raonic on Court No. 1.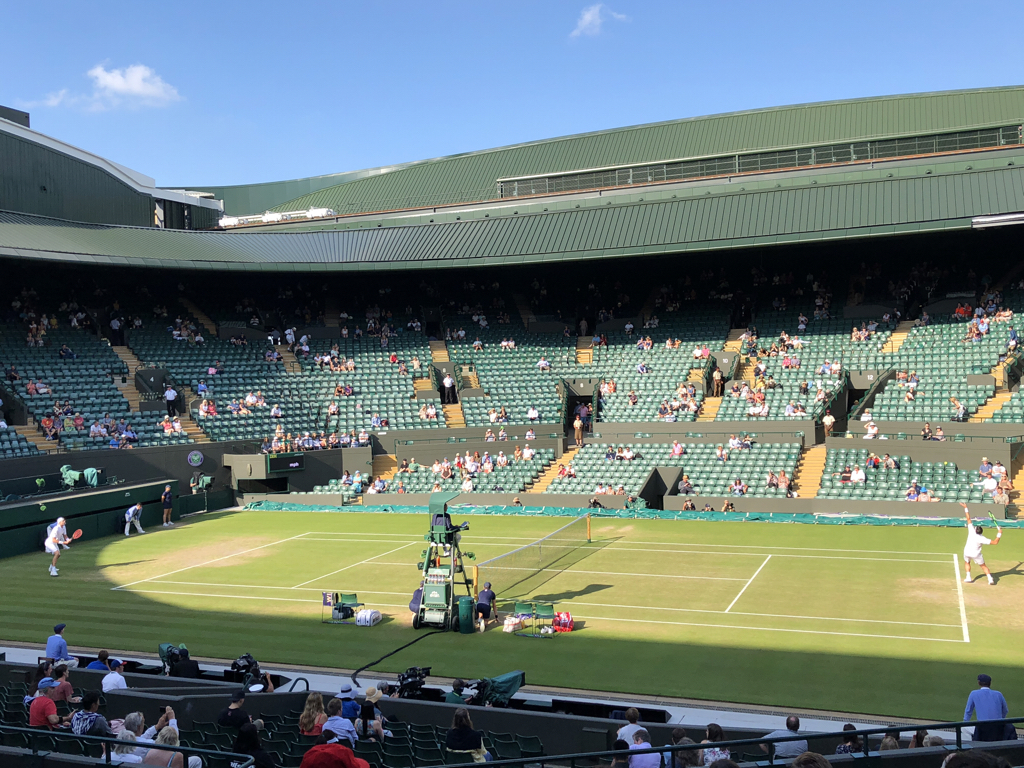 After the epic Kevin Anderson-Roger Federer match and with England's World Cup match getting underway shortly, there are only a handful of fans in the stands at the start of Court 1's second quarterfinal between Milos Raonic and John Isner.
Murray on the mic
Andy Murray made his return to Centre Court on Wednesday -- as a commentator during the Nadal-Del Potro match. The two-time champion, missing Wimbledon after his return following a hip injury, certainly looked the part, and sounded it, too.
A well-researched Andy Murray reeling off the stats again during commentary. Says that Rafael Nadal is the all-time No 1 in terms of points won on his second serve. He's right.

— Stuart Fraser (@stu_fraser) July 11, 2018
Loving @andy_murray's insightful commentary on @bbctennis. Trio of Andy, Tim & Petch would be a formidable British tennis-commentating lineup 💪🎾🇬🇧 #bbctennis

— Dave M. (@quadrigemini) July 11, 2018
Murray commentary:

*Nadal challenges hoping it's out*

Murray: "That was in."

*ball confirmed to be out*

Murray: "Hawk-eye can be wrong sometimes."

Ahahahahahahaha #wimbledon

— Rashmi 🍓🌱 (@RashmiK01) July 11, 2018
"Er, I have been watching it... (Love Island)... it's my wife... I'll blame it all on her"

(On his brother's brilliant match) "oh, I didn't watch! I had to turn it off after the second set!"

"I've been texting Tim telling him he needs to liven up his commentary"

Andy Murray 😂

— Sinead O'B (@NeadOB) July 10, 2018
Star-studded guests
As we get to the business end of the Championships, more and more famous faces are visiting the All England Club -- and Wednesday was no different. Romeo Beckham, Rory McIlroy, Dame Maggie Smith and Nico Rosberg were all spotted on Day 9.
Some familiar faces in the Royal Box ☺️#Wimbledon pic.twitter.com/9YUnPhVxNl

— Wimbledon (@Wimbledon) July 11, 2018
And those with very good memories will remember last year, when former Formula One world champion Rosberg had a last-second panic when he forgot to wear socks, a dress-code must for the Royal Box. He didn't make the same mistake this year, though:
Nico Rosberg's not taking any chances at #Wimbledon this year...🧦#bbctennis pic.twitter.com/9jm77p6xvK

— BBC Tennis (@bbctennis) July 11, 2018
Bad hair day
Who says you can't support both Roger and Rafa at Wimbledon? Kudos to this young fan. What a haircut!
Strawberries and cream
Some inspired Wimbledon fancy dress this year -- including 'Strawberry Man'. Well spotted, Judy Murray.
Only at @Wimbledon. pic.twitter.com/r3mabb4cQs

— judy murray (@JudyMurray) July 11, 2018
Brotherly love
Mike Bryan is playing in his first Wimbledon Championships without brother Bob, who continues to recover from a hip injury. But alongside temporary partner Jack Sock, the American is through to the semifinals in men's doubles.
Mike's latest victory means he will overtake Croatia's Mate Pavic as world No. 1 when the latest rankings are released Monday. Bob had a special celebratory message for his brother.