WIMBLEDON -- Men's quarterfinals day always promised to be an epic afternoon at Wimbledon. It was that ... and then some.
Here, we recount exactly how it all played out.
8 a.m. ET/1 p.m. Wimbledon time: Kevin Anderson and Roger Federer walk onto Court 1 while Novak Djokovic and Kei Nishikori take to Centre Court for their respective quarterfinals.
Pete Bodo: "As Roger Federer enters Court No. 1, a group of perhaps 20 Rogerphiles sitting together in good seats near either sideline rise as one to bear witness and welcome him. They're all decked out in red and white and bearing various signs proclaiming his genius. Where did they get the tickets, all together, given that the Court No. 1 assignment took everyone by surprise on Tuesday afternoon? Hmmmm."
8:32 a.m./1:32 p.m.: Kei Nishikori hits a tweener cross-court winner to trail 3-2 in the first set against Novak Djokovic.
Djokovic gets in heated argument with umpire
Novak Djokovic challenges the umpire after receiving a code violation for unsportsmanlike conduct after scraping his racquet on the grass.
8:40 a.m./1:40 p.m.: Roger Federer wins the first set 6-2.
Pete Bodo: "'Come on, Kev,' a deep, presumably South African voice calls out. But Anderson still can't find his big serve. He looks almost embarrassed out there, being 6-foot-9, but there's no place to hide. He bangs an artless backhand into the net, and Federer breaks to lead 5-2 and serves for the set."
8:47 a.m./1:47 p.m.: Novak Djokovic wins the first set 6-3.
8:50 a.m./1:50 p.m.: Roger Federer is broken for the first time at Wimbledon this year.
Pete Bodo: "A ray of hope for Anderson in the second set, as he breaks to lead 2-0, but the red-and-white Rogerphiles are energized. Don't get all excited, though, because Fedfans don't do wicked or funny chants. They're too sophisticated. They do Swiss/Fed-themed clothes and worshipful signs."
9:10 a.m./2:10 p.m.: Djokovic slams his racquet, receives a code violation and then argues with the umpire.
Tom Hamilton: "After Kei Nishikori held serve to make it 2-1 in the second set, with a fortuitous kiss over the net in the process, Djokovic dropped his racquet to the floor and caught it again. The umpire deemed it to be an act warranting a warning, and Djokovic protested his judgment. 'Come on, you have got to be joking,' he said."
9:32 a.m./2:32 p.m.: Roger Federer wins a second set tiebreak, leads 6-2, 7-6(5), equals his own Wimbledon record of 34 consecutive set wins.
Pete Bodo: "It's game on now, tiebreaker time. Anderson is looking stronger and stronger, but Federer arrives at double set point with two serves to come. He blows both chances with terrible forehand errors. So un-Federer-like, you would almost pay to see that. But at 5-6, Anderson makes an error, and it's Federer's set."
9:33 a.m./2:33 p.m.: Kei Nishikori wins the second set 6-3, levels match at one set all.
Tom Hamilton: "Trailing 5-2, Djokovic tried to unsettle Nishikori with a brutal rally at the net, finishing in a neat tête-à-tête by volleying the ball straight at his opponent. Nishikori was momentarily stunned but recovered."
10:10 a.m./15:10 p.m.: Novak Djokovic wins the third set 6-2, leads two sets to one.
Tom Hamilton: "Facing the abyss of being love-40 down on his own serve at 2-2 in the third, Djokovic somehow rallied. Taking an average of 29 seconds per serve (hello, 25-second shot clock), he calmly held serve to make it 3-2, and though he was annoyed at nearby spectators in Nishikori's next service game, he broke his opponent and reacted with a series of fist-pumps, screaming 'Come on!' at his box."
10:24 a.m./15:24 p.m.: Kevin Anderson wins the third set 7-5, trails two sets to one.
Pete Bodo: "Anderson has been threatening, but Federer holds the fort, and his fans creep to the edges of their seats as Federer reaches match point at 5-4 in the third set. But Anderson comes up with a big serve, attacks, and the crowd gasps as Federer shanks a forehand. Anderson goes on to take the set."
10:45 a.m./15:45 p.m.: Novak Djokovic beats Kei Nishikori 6-3, 3-6, 6-2, 6-2.
Tom Hamilton: "Having broken Nishikori twice, Djokovic was handed match point at advantage, leading 5-2. Despite Nishikori's spirit, he unloaded his forehand and secured the match."
HAMILTON: Djokovic show rolls into semifinals. READ
10:47 a.m./15:47 p.m.: Kevin Anderson breaks Roger Federer to lead 4-3 in the fourth set.
Pete Bodo: "Anderson feels more and more comfortable. Federer is having more and more trouble controlling his groundstrokes. Anderson breaks in the seventh game, thanks to a pair of forehand errors by Federer -- confirmation that Federer is in deep trouble."
10:57 a.m./15:57 p.m.: Kevin Anderson wins the fourth set 6-4, takes match to a decisive fifth set.
Pete Bodo: "Both men come out for set five lifting their legs, looking refreshed and ready to go. Cries of 'Come on, Roger,' and 'Let's go, Kev,' resound all around Court No. 1."
10:58 a.m./15:58 p.m.: Rafael Nadal and Juan Martin Del Potro arrive on Centre Court for their quarterfinal.
11:46 a.m./16:46 p.m.: Roger Federer and Kevin Anderson reach 6-6 in the fifth set.
Pete Bodo: "The games roll on with hypnotic intensity, both men serving well. In the player box, Mirka Federer leans forward, intensely regarding the action while Anderson's wife, Kelsey, in the guest box at the other end, looks cool and composed beneath a large, floppy hat and large sunglasses with black lenses."
11:56 a.m./16:56 p.m.: Federer wins crucial point with volley at the net, holds serve to lead 8-7.
Pete Bodo: "The match is threatening to approach Isner-Mahut territory as the men fall into a pattern of relatively easy holds thanks to excellent serving and a lack of risk-taking once the ball is in play. Fans are curiously muted. It's like waiting through the calm for that epic thunderstorm."
11:58 a.m./16:58 p.m.: Rafael Nadal wins the first set against Juan Martin Del Potro 7-5.
12:03 p.m./17:03 p.m.: A fan shouts "I need to watch the football" on Court 1. Federer-Anderson still going with serve in fifth set.
12:22 p.m./17:22 p.m.: Anderson breaks Federer to lead 12-11, will serve for the match.
Pete Bodo: "At 11-11, Federer serving, the crowd collectively greets his 15-all forehand with an 'Aaaahhh!' mistakenly thinking it an error. Annoyed, Federer looks at the chair umpire, who asks the crowd to remain silent between points. But Federer can't escape the game. A double fault, his first of the match, and a terrible forehand error give Anderson the break. The crowd groans. The umpire says nothing."
12:27 p.m./17:27 p.m.: Kevin Anderson beats Roger Federer 2-6, 6-7(5), 7-5, 6-4, 13-11.
Pete Bodo: "Anderson wins it at the four-hour, 12-minute mark. He makes no dramatic demonstration or celebration. He just raises his arms and then walks up to the net to shake hands and exchange a few words with Federer as all those fans bedecked in red and white look on, stunned."
BODO: Federer fell, but he can get back up. READ
Alyssa Roenigk: "During a changeover before the eighth game of the second set of Nadal-Del Potro, the Federer-Anderson score flashes on the Centre Court screen and updates to show Federer has been knocked out of Wimbledon. The crowd erupts and must be settled by the chair umpire before Del Potro can serve to start the game. It's likely he and Nadal also saw that the road to a Wimbledon title just became a little less cluttered by an eight-time champ."
12:45 p.m./17:45 p.m.: Milos Raonic and John Isner arrive on Court 1 for their quarterfinal.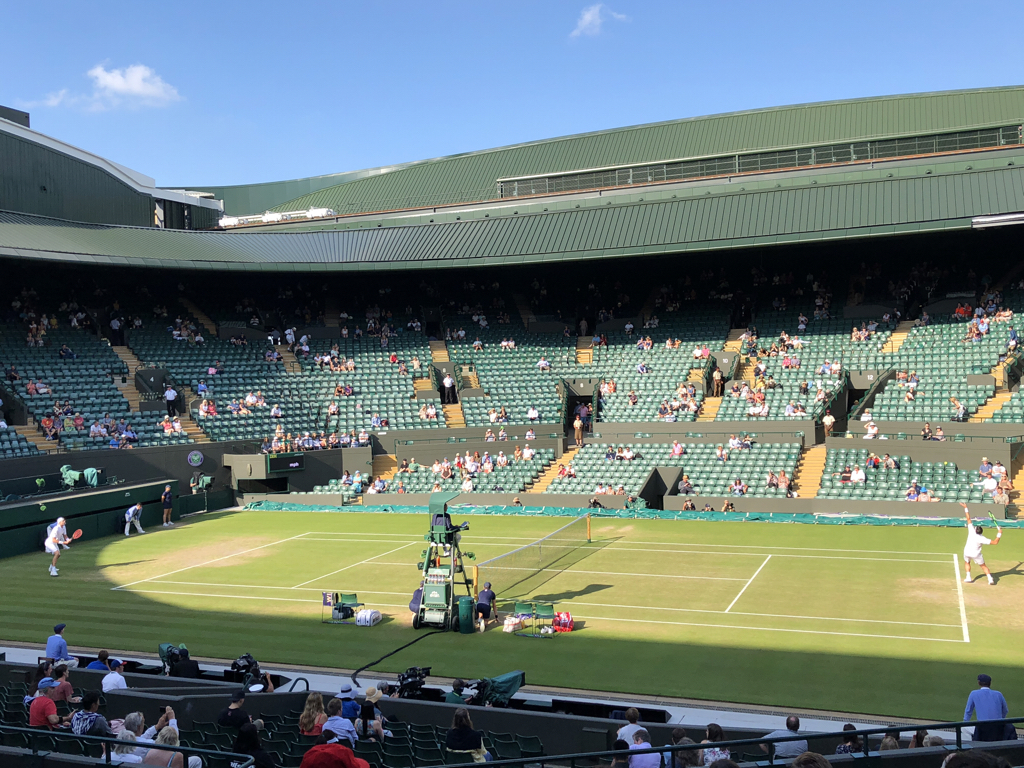 After the epic Kevin Anderson-Roger Federer match and with England's World Cup match getting underway shortly, there are only a handful of fans in the stands at the start of Court 1's second quarterfinal between Milos Raonic and John Isner.
12:51 p.m./17:51 p.m.: Roger Federer's news conference begins.
13:04 p.m./18:04 p.m.: Juan Martin Del Potro saves four set points before winning second-set tiebreak.
Alyssa Roenigk: "Up 6-3 in the second-set tiebreak, Nadal squanders four set points, including a double fault at 6-5, and eventually loses the tiebreak 9-7. The match is even at one set apiece. What's not even: Delpo's logged 15 aces to two for Nadal. 'That double fault was a big mistake,' Nadal said after the match. 'Then the match changed. He played well.'"
13:28 p.m./18:28 p.m.: Milos Raonic wins first-set tiebreak.
D'Arcy Maine: "Raonic wins the tiebreak, 7-5, to take the first set. The crowd, which now might be up like a full 100 people, seems happy about this. But that could just have been in response to scores for the Nadal-del Potro match or the start of the England game on their phones. Who's to say, really?"
13:52 p.m./18:52 p.m.: Juan Martin Del Potro wins third set against Rafael Nadal 6-4, then orders a sandwich while Nadal takes a toilet break.
Alyssa Roenigk: "Third set. Tenth game. Delpo up 5-4. Nadal on serve and down 0-30. For the first time all match, the Spaniard looks frustrated and unfocused. At 0-40, he appears even more so. On the next point, Del Potro hits a beauty of a forehand winner to take the set."
14:17 p.m./19:17 p.m.: John Isner wins second-set tiebreak, levels match with Milos Raonic.
D'Arcy Maine: "While Court 1 is quiet, even for the impressive rallies* (in this case, anything that involves a return), the loud cheers coming from Centre Court are almost deafening. We can hear every point. 'Why am I here?' I ask myself on more than one occasion."
If anyone needs me, I'll likely be on Court 1 for the next three days or so watching John Isner and Milos Raonic trade aces. (There were 42 in the first two sets — 24 for Raonic, 18 for Isner)
14:22 p.m./19:22 p.m.: Rafael Nadal breaks to lead 3-2 in the fourth set
Alyssa Roenigk: "In what is becoming an increasingly physical match, Nadal breaks Del Potro in the fifth game of the fourth set -- without allowing the 6-foot-6 Argentine a single point -- to go ahead 3-2. With every diving, one-handed, forehand volley, the crowd is even more plugged in (read: electric!)."
14:40 p.m./19:40 p.m.: John Isner breaks Milos Raonic, leads 3-2 in the third set.
D'Arcy Maine: "My dad texts me about England-Croatia. I envision myself in a perfect world, where I am watching the game as I doodle a World Cup trophy in my notebook, but then I look up and see the person in the row directly in front of me has it up on their phone. That'll do.
"WAIT A MINUTE. SOUND THE ALARMS. ISNER JUST BROKE RAONIC. Am I dreaming? I must be dreaming. Editor's note: Not dreaming."
14:44 p.m./19:44 p.m.: Rafael Nadal wins fourth set 6-4, takes match to decisive fifth set.
Before this quarterfinal match between Rafael Nadal and Juan Martin Del Potro began more than three-and-a-half hours ago, there was a question as to which fan favorite would carry the crowd. As they head into the fifth set, there is no question Nadal owns these fans, who are being treated to their first five-setter on Centre Court this fortnight. Not a bad tradeoff for missing England - Croatia?
14:51 p.m./19:51 p.m.: John Isner wins third set 6-4, leads two sets to one.
D'Arcy Maine: "Well, well, well, that temporary break of serve seems to have made all the difference. We don't need a tiebreak, and Isner takes the set 6-4. The family members and friends in his box are yelling words of support and encouragement. 'You got this, John!' 'Put him away!' 'C'mon John!' I can hear every single one because there really isn't anyone else there.
"The fourth set gets underway, but the energy in the air all seems to be coming from Centre Court. I don't know who is doing what or what is happening, but it's clear whenever a point is earned through the roars. I can't wait to tell people when they ask where I was for the epic Nadal-del Potro match that I was at the other stadium."
15:00 p.m./20:00 p.m.: Del Potro and Nadal combine for the best game of Wimbledon. Del Potro wins a rally with a diving volley, and Nadal ends up in the crowd later in the same game.
Alyssa Roenigk: "In the third game of the fifth set, the crowd leaps to its collective feet for perhaps the most athletic point of an increasingly acrobatic match. On serve and tied 30-30, Del Potro dives parallel to the net to make an impossible volley, loses his racket but wins the point -- and the crowd. 'I think I won the best point of the match,' Del Potro said. 'It was great for me to play Rafa at this level.' At deuce, Del Potro falls again sprinting to the net. More cheers! Not to be outdone, Nadal chases a shot into the stands, outfielder-style, but can't return the shot. Delpo takes the next point to hold -- with an ace. (He had 33 in the match.)"
15:13 p.m./20:13 p.m.: Nadal breaks to lead 3-2 in the fifth.
Alyssa Roenigk: "The match has passed the four-and-a-half-hour mark. Both men are visibly exhausted. Nadal saves two break points and takes his third game in a row to go ahead 4-2. 'I was close to beat him -- and I couldn't, because Rafa always has a little bit more than the other players on tour,' Del Potro said after the match. 'I need to keep working hard to see if in my next opportunity I can beat him.'"
15:15 p.m./20:15 p.m.: Isner breaks to lead 3-2 in the fourth.
D'Arcy Maine: "As the old saying goes, 'Once you get broken in one game in three sets, you're going to lose the match,' and that's exactly what seems to be going through Raonic's mind. Isner breaks him again. COULD THIS MATCH BE NEARING AN END? I do a tap dance from my seat in excitement. No one is anywhere near me to notice, so I don't feel bad about this."
15:23 p.m./20:23 p.m.: Nadal saves two break points to hold in an eight-minute game for a 4-2 lead.
Alyssa Roenigk: "Nadal saves three break points in the eighth game of the fifth set. In all, he faced 10 break points in the match, losing four. 'I believe I increased little bit the level in the fourth and the fifth [sets],' Nadal said. 'But the fifth, [Del Potro] was playing huge, no? It was so difficult to stop him.'"
15:32 p.m./20:32 p.m.: John Isner beats Milos Raonic 6-7(5), 7-6(7), 6-4, 6-3.
D'Arcy Maine: "GAME. SET. MATCH. ISNER WINS! Everyone looks happy to get out in time to watch the rest of the World Cup match or Nadal-del Potro. Or maybe they're just happy it's over. Either way. TENNIS, EVERYONE!"
15:42 p.m./20:42 p.m.: Nadal saves three break points, holds to lead 5-3 after 13-minute game.
15:52 p.m./20:52 p.m.: Rafael Nadal beats Juan Martin Del Potro 7-5, 6-7(7), 4-6, 6-4, 6-4.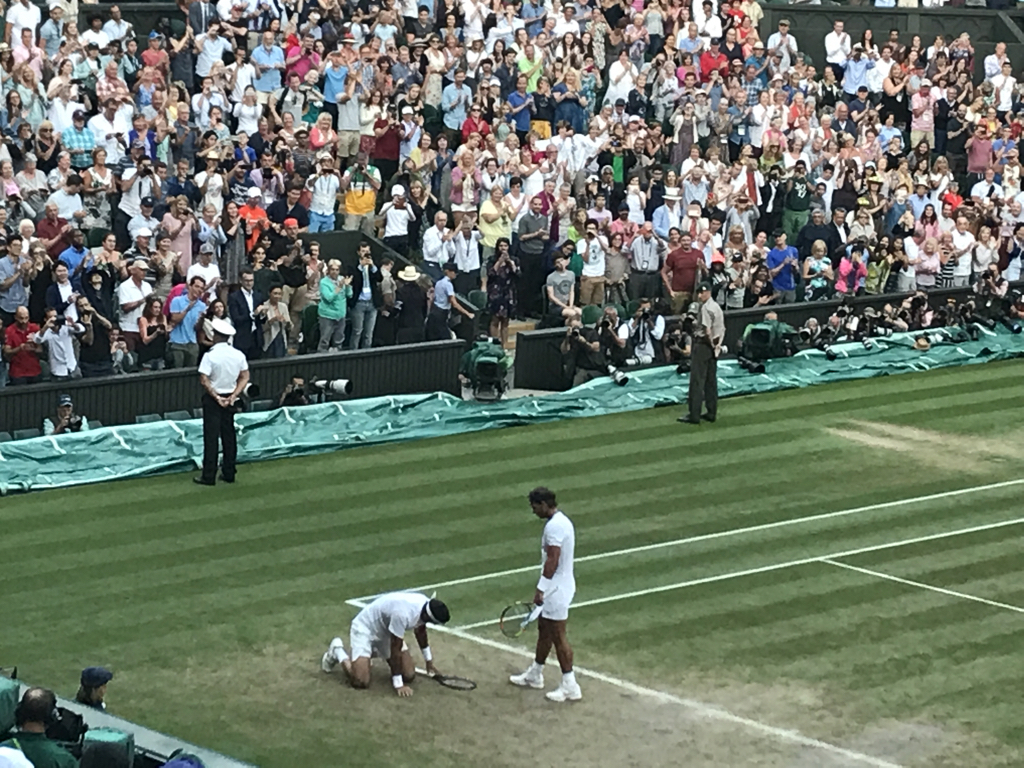 What a match. What a day at All England. In another instant classic, two-time Wimbledon champ Rafael Nadal needed five sets and nearly five hours to defeat Juan Martin Del Potro and book his ticket to Friday's semifinal against Novak Djokovic. Of all the indelible images from an unbelievable match, none was as poignant as Nadal climbing over the net, post-match, walking to Del Potro and helping him to his feet. The men then hugged, exchanged words and walked off the court arm in arm — to a standing ovation.
Alyssa Roenigk: "'I didn't want to finish the match like that,' Del Potro said. 'But also, Rafa played a very smart point. After almost five hours match, I fell down, and I wanted to stay there for all night long. But Rafa came to me, and we made a big hug, and it was kind of him.'"