WIMBLEDON -- Eyes have been trained on the Royal Box at Wimbledon for the first sighting of Meghan Markle on official All England Club duty as Duchess of Sussex.
Well, the wait is over... Or at least it will be on Saturday.
The Duchess of Cambridge, @Wimbledon Patron, and The Duchess of Sussex will attend the Ladies' Singles Final on Saturday 14th July #Wimbledon

— Kensington Palace (@KensingtonRoyal) July 12, 2018
For those not familiar with royal titles, the Duchess of Cambridge is Kate Middleton, wife of Prince William and future queen.
Surely it cannot be just a coincidence that this announcement came shortly after Serena Williams qualified for the women's final, Saturday's showpiece occasion. Serena is a longtime friend of Markle... sorry, the Duchess of Sussex, and was at her wedding to Prince Harry in May in Windsor.
For her part, Serena was coy about the presence of her royal pal. "We've always had a wonderful friendship," she said. "Every year for a couple years she comes out to Wimbledon, has supported me. Now she's supporting me in a different role. But our friendship is still exactly the same. We always have supported each other, just been there for each other through a lot. I look forward to it."
Asked if she herself was tennis royalty, Serena laughed. "If there was a Wimbledon royalty, I would like to believe I would be Wimbledon royalty because I've done pretty well here in the past. I am a member [of the All England Club], so that kind of counts."
Error of Jelena's ways
It seems Jelena Ostapenko has been spending too much time watching the England football team. Like the Three Lions in their loss to Croatia in the World Cup semifinals Wednesday, the 21-year-old's Wimbledon campaign ended in a flurry of unforced errors as she was outplayed by former World No.1 Angelique Kerber 6-3, 6-3.
In many ways, Kerber is the nightmare opponent for big-hitting Ostapenko. The contest was deemed attack versus defence; the former French Open champion relies on vicious attacking winners to crunch important games, but resilient Kerber gets every ball back in court. The young Latvian hit a total of 36 unforced errors to Kerber's seven.
But despite these unruly stats, this isn't unusual behaviour from Ostapenko. During the 2016 French Open final, Ostapenko hit a whopping 54 unforced errors to opponent Simona Halep's refrained 10 and, despite that, she still clinched the title.
Not this time around, though. Kerber held firm and set up a rematch of her 2016 final against Serena.
The last time @serenawilliams and @AngeliqueKerber met at #Wimbledon pic.twitter.com/BhP06WHFVR

— Wimbledon (@Wimbledon) July 12, 2018
(D)Joker by name ...
Novak Djokovic qualified for his place in the semifinals -- his first in almost two years -- with a well-fought victory over the sprightly Kei Nishikori on Wednesday, 6-3, 3-6, 6-2, 6-2.
But it seems that on his day off, the Serbian has no interest in playing tennis. Instead, he is using his allocated time on the Aorangi practice courts to do anything but.
Football ... yoga ... you name it.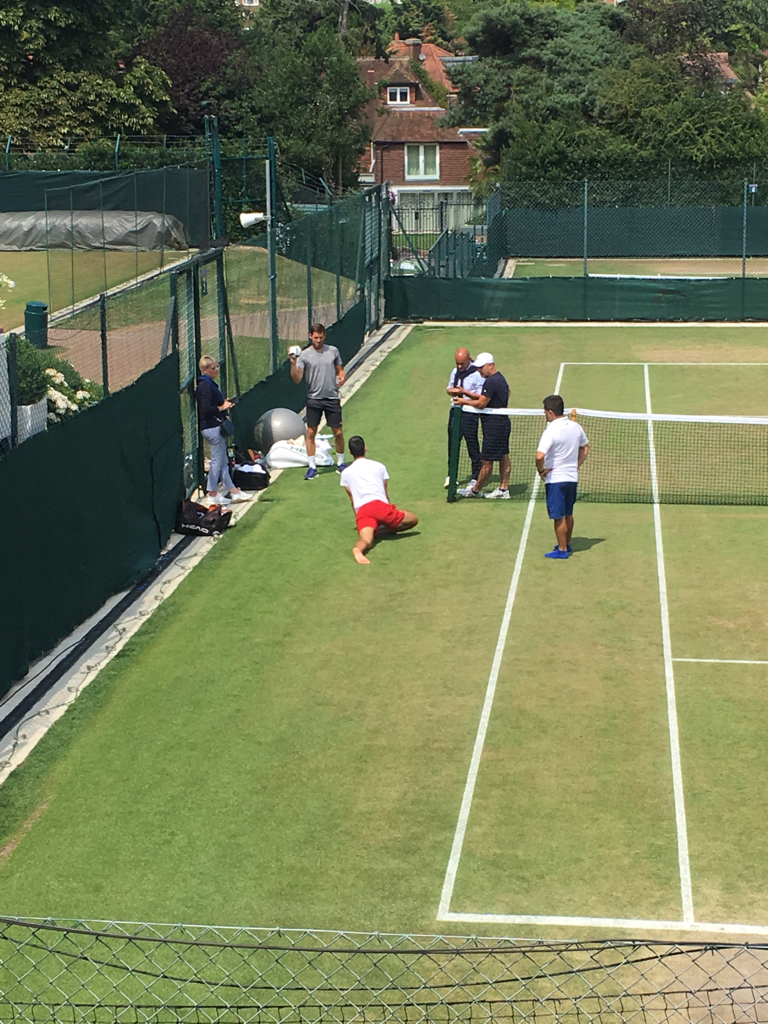 Well known on the tour for his clean eating habits and yoga/meditation practices, Novak Djokovic does some stretches on the practice courts in preparation for his semifinal match against World No.1 and longtime rival Rafael Nadal Friday.
Djokovic and Nadal will play each other for the 52nd time when they meet in the semifinals Friday.
Comfort food
Julia Goerges was knocked out of the tournament Thursday by an unstoppable Serena Williams, who ousted the German player 6-2, 6-4 in a little over an hour.
While a Wimbledon trophy doesn't await, Goerges has celebratory plans of her own in mind...
Julia Goerges is ready to reward herself -- with sleeping in her own bed. After a month of travels for the grass-court season, the German's Wimbledon campaign ended in semifinal defeat to Serena Williams. "That's the biggest reward I think for me," Goerges said. "I've never played such a long grass season. When I left for the grass season, I think I would never expected going away for grass for four weeks. Maybe I get a Donner kebab at home when I come back home. That's a good thing to do."
Double the fun
While the singles matches are lessening toward the end of the fortnight, there is still plenty of tennis action taking place around the grounds in the doubles tournament.
She might have exited from the women's singles in the second round at the hands of Karolina Pliskova, but Victoria Azarenka is still putting on a fine performance in the mixed doubles with partner Jamie Murray.
Pushed all the way...@jamie_murray and @vika7 come back from a set down to seal their spot in the #Wimbledon mixed doubles semi-finals with a 4-6, 7-5, 7-5 win over Jean-Julien Rojer and Demi Schuurs pic.twitter.com/JN09sLZtoU

— Wimbledon (@Wimbledon) July 12, 2018
The duo fought through their quarterfinal match in three sets Thursday to set up a semifinal clash with young British couple Harriet Dart and Jay Clarke.
Their impressive mixed doubles run continues...@harriet_dart and @Jay27798 progress to the semi-finals thanks to a 7-6(10), 7-5 victory against Cabal and Spears#Wimbledon pic.twitter.com/HAEfnTnl91

— Wimbledon (@Wimbledon) July 12, 2018