Before she stepped through the doors of the WWE Performance Center in July, Lacey Lane proved her competitive nature in a number of ways. She was a scholarship basketball player and featured as part of the 2012 NCAA Division II National Champion Shaw Lady Bears in 2012, and she graduated summa cum laude that year. After training with The Dudley Boyz at the Team 3D Academy and plying her craft in Mexico, Lane drew the attention of the WWE.
Shortly after starting her WWE training just down the road from where she grew up in Winter Park, Florida, Lane was announced as one of 32 participants in the 2018 edition of the Mae Young Classic.
She sat down to talk to ESPN about how she got into the wrestling world, what training with the Dudley Boyz is like and her approach to her in-ring performances.
ESPN: From what I gather, you're the first Winter Park resident to make it to the Performance Center?
Lacey Lane: I think so. I think Naomi is Orlando. I'm the first of my kind here. This is my backyard. I literally live up the street. I grew up down the street. I went to school down the street. My college is down the street.
Has that made the transition to training at the Performance Center easier for you?
Everyone keeps asking me that. They keep telling me "Yeah, you didn't have to move across the country." I understand that, but this lifestyle itself is a whole other world for me, so it's an easy transition for the fact that I don't have to move, but here, it's the same transition that everyone has to go through.
How did you get started in the wrestling business?
I started with the Dudley [Boyz]. That was about three years ago. I trained there for about eight months, and then I started on the independent scene. For the last year, I've been in Mexico, and now I'm here, and I'm roughly working on my two-and-one-half year mark.
---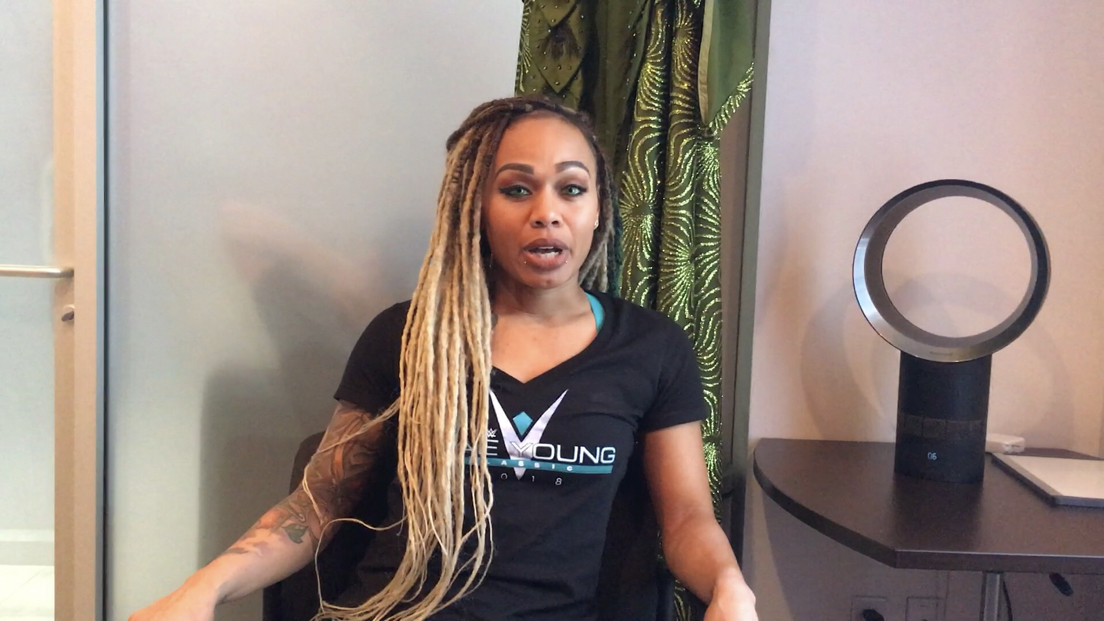 Ahead of her second round match in the Mae Young Classic, Lacey Lane on the aggressive style that's becoming more common with women in professional wrestling. (Interview courtesy of KC Joyner)
---
You learned some of the Lucha style in Mexico, correct?
I learned everything I needed to learn from the Dudleys here, the U.S. part, and then I went over there to train Lucha Libre to a better extent.
The Dudleys, Lucha Libre and the NXT styles are drastically different from each other. Do you blend them in or adopt a different style here?
That's what I believe in: adapting to all kinds of elements. I want to hit every single kind of style. That way I'm prepared for any opponent I come across, and that way I'm a threat myself. Yeah, they are two different styles, but I'm always about learning and taking pieces of everything and adding it to my personality and my move set.
Your nickname started out as "Pretty Reckless." Tell me about how that happened and what changed.
Nickname was Pretty Reckless at the start, but it became The Raging Pitbull because whenever I'd ask anyone "What do you think of me?" they were like, "You're like a little pitbull," so that one kind of stuck. Pretty Reckless was when I first started because I thought I was, like, a reckless individual, but then I realized, no, I'm just really aggressive for what I want, and that's how The Raging Pitbull became a thing.
Does that aggressive style show up in interviews and in the ring?
Definitely. It's not like I'm two different people, but I keep telling everyone I'm just versatility personified. I just have so many, not moods, but I'm just random. I can be happy, I can be angry if you make me mad. In general, I'm really laid-back, but in the ring, I give it all I have at all times. I'm always trying different things. Whatever the mood is for the moment, whatever I'm good at, that's what pops out. As far as the pitbull aspect, I'll never back down from anything, I'll just keep going and attacking. I don't care if you come at me with all you got, I'm going to keep going right back at you until I physically am not capable.
The Dudleys style is very violent and falls into the hard-core wrestling category. Do you see yourself weaving that style into NXT?
I can start to see it now with the ladies that are being brought here. I am a big fan of super strong style. At the Dudleys' school, they don't treat us like women, they don't say, "Hey, you guys go work with the girls." My partner was a guy, a big guy, and I had to give him moves. I had to learn to take moves from him, so we're not trained like normal over there, so that's what I'm hoping flourishes out with the women because I want to go.
I've wrestled Lio Rush and am the only girl on the independent scene to wrestle Lio Rush. That's one big competitor, that's a fast guy, strong guy, and being able to keep up him and him afterwards shaking my hand and saying, "Hey, way to keep up", that's what I want all women to do and be able to compete at all levels.
Considering where women's wrestling is headed in the WWE, is being in the main event at a pay-per-view or WrestleMania the goal?
Absolutely. Being brought here and coming from the path that I did, I want to show the world why I'm an asset to the women's evolution. I want to be a part of that because they are so many great figures ahead of me, so many women that I look up to, and I just want to be an addition to that chain of great women that just keep adding and bringing that different type of aspect to women's wrestling now. So, of course, that's my main goal. If it's not me, if we're even getting it done, that's just amazing.
The Dudleys were known for pressing the boundaries during their interviews. Did you pick any of that up along the way?
Like I said, I'm me. [But] I have to say this. When I first wanted into school [with the Dudleys] and the WWE was there filming the Dudleys DVD, I had no clue about cutting a promo or anything because this is my first day of school. Bubba called me up there to cut a promo, and I just froze, and he told me to sit down. From that day on, I was like, dang, I'm going to have to talk all of the time. Eventually my tryout came along, and I worked every single day to be better at promos, and now I just talk.
---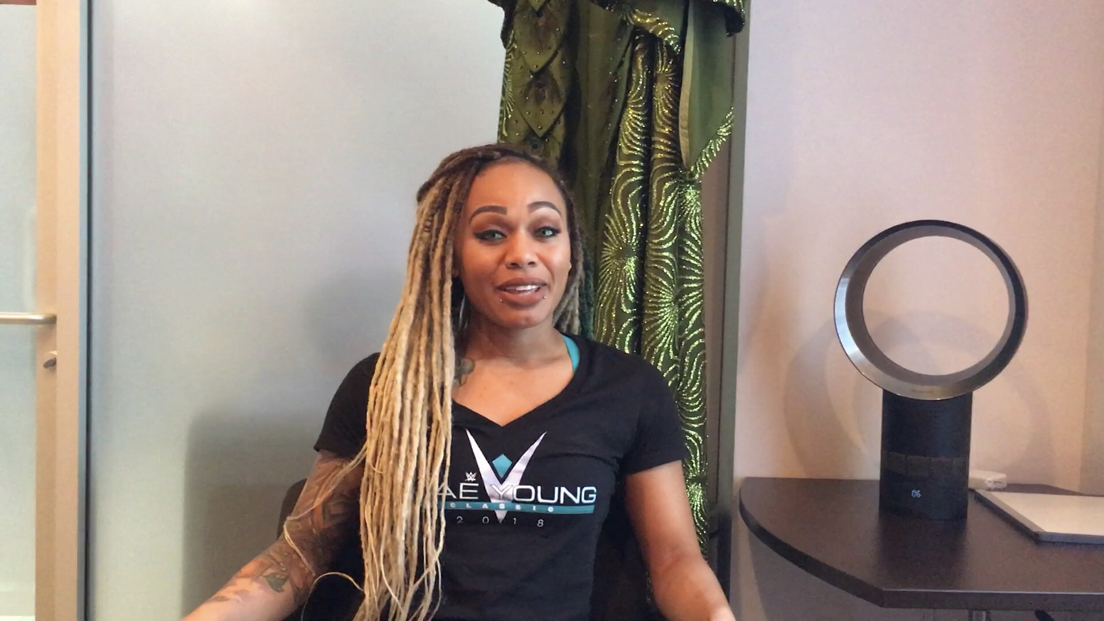 Lacey Lane reflects on how her first attempt at a wrestling promo turned out, and how it pushed her to find herself when she's talking in the ring. (Interview courtesy of KC Joyner).
---
If it comes out in the crazy manner that it does, I mean, I'm always in my respectful lines, but at the end of the day, I'm not afraid to say what I have to say. I'm not afraid to voice my opinion because my whole purpose here is create that whole change and embrace the whole different thing. So I'll push the boundaries if I have to and if it's necessary, so needless to say, I'm no longer afraid to say what I need to.
Not long ago, Kevin Owens went off of the top of the Hell in a Cell and through a table at Extreme Rules. What, in your opinion, is the ceiling for physicality in the women's division?
Being in Mexico, I've tried a lot of things I never thought I would. Someone says go do a suplex to the outside, I've never done [that], but I'm like, "OK, let's do it." It's always about pushing the limit for us. I think the more time that goes by, women are becoming more fearless to the thought of, "Hey, let's do high risk." It's not just about being pretty, our bodies can be pushed to this limit, too. We're physically capable of making this look good. I really believe the physicality is going to flourish even more so.
The advantage I think we'll have is women are so much more acrobatic and flexible than men, so eventually we'll come up with some creative things that no one has seen and that the guys can't even do. I can't wait for that moment to happen because it's going to be phenomenal.
What has it been like to interact with all of the other women in the Mae Young Classic, who come from all over the world?
Twelve countries is a lot. When you're watching all of the girls in practice, you're just like, "Wow, that's interesting." I'm the observer, I like to watch and really study the product because I need to be prepared. Many girls want to work on their moves or try this or that. I'm more looking at my opponents and thinking how can I counter this or how can I be better at this style or how can I incorporate this style into my move set.
It is awesome getting to see things I've never seen before because it makes you open up a whole new plethora of creativity in your move set and who you want to be and what you want to be in this company.
What are your goals for the Mae Young Classic?
I think I'm in a different position than a lot of girls. You have the girls who started without wrestling and came to this company, and they were built that way. Then you have the girls on the independent scene who are more well-known because they have been wrestling for many years. I'm an in-betweener because no one really knew who I was because I went to Mexico and I've only been wrestling for two-and-a-half years.
My purpose and my goal here is to show the world who I really am and what I'm capable of doing. I want to show the world the product that I am. When someone says my name now, they are like, "Lacey who?" I'm like, this is Lacey, and I'm going to show you in this ring. That's why I want to push myself to the top to finally get to show the world, instead of traveling from city to city to showcase myself when no one knows, but now in this tournament if I make it to the top, everyone will know.