By Hunter S. Thompson
Page 2 columnist
People mocked me when I picked Kentucky to go all the way in the NCAAs this year. They said I was dumb, that I was doing exactly what I warned people Not to do, last week. I was betting my heart instead of my head -- Homeboy Fever.
Well, maybe so. I am a Bluegrass boy, for sure, and the blood of "Devil Anse" Hatfield runs in my veins -- But I don't hear any Fat ladies singing in my house tonight, no music has stopped where I dance ... Betting on Kentucky has always been a white-knuckle proposition. The Holy Cross game on Thursday took three years off my life in 10 minutes. Losing a 12-point lead when you've just doubled down is one of those things that I will Never learn to tolerate. It is like watching rats gnaw flesh off your body. Every bastard in Boston was laughing at me when that happened. I could hear it all the way out here on the other side of the Continental Divide. ... Ho ho. Remember that old sales-pitch that said "They laughed when I sat down to play the piano"? It was Liberace who said that, I think. He was selling quick-fix Music Lessons.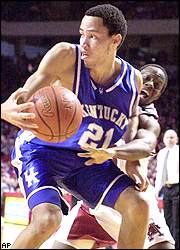 Tayshaun Prince brings his Wildcats into the Jimmy V Classic to face Duke in a possible national championship preview.
It was the same thing they said when Tayshaun Prince showed up in Lexington to play basketball. He was way too skinny, they said. He lacked the true grit of a winner. ... But let me tell you something, bubba -- that boy Prince has the instincts of a flat-out professional assassin. He murdered Holy Cross in cold blood, and he did it again to Iowa. Prince is a Shootist. He can turn your nerves to jelly if you're Betting against him.
Ah, but dancing out loud is very bad Karma at this time of year. There are 16 teams still alive in this tournament, and every one of them is dangerous. Stanford survived by the skin of its teeth against lowly St. Joseph's, and Penn State's cruel bashing of North Carolina brought shame on the whole state. My own real fear, right now, is that Kentucky might be so rabid for revenge against Duke that the 'Cats will forget all about USC, which would be a fatal mistake. The Grim Reaper sits close to the floor in this tournament. A single missed free throw can be the difference between Life and Death. Ask that poor geek from Wisconsin how it feels. The next basketball game he plays will be in Korea.
LISL UPDATE
For current major developments in the Strange and Terrible Case of Lisl Auman, see Lisl.Com or Sunday's front page of RockyMountainNews.com. The fat has gone into the fire. Bad craziness, soon come.
--HST.
And remember this, folks -- I am a Hillbilly, and I don't always Bet the same way I talk. Good advice is one thing, but smart gambling is quite another. Caveat Emptor. My topic next week will be "The Importance of a Good Education." But Kentucky has to beat USC first, and I want Duke to stay healthy long enough to get past UCLA. Once we get our hands on Duke, people will understand why it was Richard Nixon's favorite school.
Dr. Hunter S. Thompson's books include
Hell's Angels, Fear and Loathing in Las Vegas, Fear and Loathing on the Campaign Trail '72, The Proud Highway, Better Than Sex
and
The Rum Diary
. His new book,
Fear and Loathing in America
, has just been released. A regular contributor to various national and international publications, Thompson now lives in a fortified compound near Aspen, Colo. His column, "Hey, Rube," appears each Monday on Page 2.