By Bill Simmons
Page 2 columnist
NEW ORLEANS (Friday, 3 a.m. CT) -- Before we tackle Sunday's game and make a pick for Super Bowl XXXVI, I'm clearing my notebook with some leftover thoughts on Super Bowl Week. Just for the record, this column is all over the place, so please remember to strap on your seatbelts and push your seats to the upright position. Anyway ...
You can feel the city coming alive as the week creeps closer and closer to Sunday. More and more people checking in, more and more people combing the streets, more and more people prowling Bourbon Street ... it's starting to feel like an event. Even the last two nights, we were making the rounds on Bourbon Street and having those "Hey, it's Jerry Glanville!" and "Hey, it's Harry Carson!" moments. I can't even imagine what this place will be like by Saturday.
One downer about New Orleans: The 10 percent sales tax on just about everything. Seems a little counterproductive ... why discourage tourists from purchasing things? Makes no sense. On the flip side, I love the quirky coffee shops (heaven forbid they ever open a good one in Boston), the casino (still can't figure out how they snuck one downtown), the bar scene (completely insane, totally alive) and the soups (I've always been a soup guy). I still haven't partaken in the whole jazz thing though ... I know, I know, I'm missing out, and I'm not experiencing New Orleans and blah blah blah.
At one of the local bars Wednesday night, I ran into ESPN's Dan Patrick and we ended up gabbing for awhile. Of course, since Dan has such a recognizable face, many of the patrons in that 20-30 age range were staring at him and generally hovering. Every five minutes, one of them would come over and do the "Just had to come over and say hello/I love you on ESPN" thing. Which is totally cool -- I'm sure Dan prefers that approach to the "You suck/you're terrible" routine. And he genuinely enjoys talking to ESPN fans, even if he doesn't know them. But it kept happening ... And it kept happening ... Finally I asked him, "If they made a pill that allowed you to be completely unrecognizable in situations like this, would you take it?" Dan rolled his eyes: "What do you think?"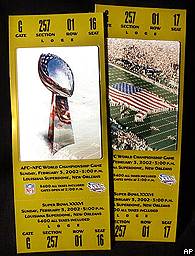 Tickets for Sunday's game are not in high demand.
Scalpers and ticket agencies are panicking about Sunday's game. From various accounts, you can get into the game for as little as $850, and you can find seats on the 50-yard line for something around $3,000 or $3,500. It doesn't help that hotels are completely booked around here (between Mardi Gras and the Super Bowl) -- many on-the-fence Pats/Rams fans probably ended up passing on trips down here because they couldn't find a room. Too bad.
Tuesday night's highlight happened when some friends and I were returning to our hotels at around 4:40 a.m. (long night). We were dropping one of us off when I noticed Gerry Callahan -- who writes a sports column for the Boston Herald and hosts a 6 a.m. show on one of the sports radio stations in Boston -- standing in front of the hotel waiting for a cab. Poor Gerry. I was going to bed, he was going to work. High comedy. I didn't know whether to say "Good morning" or "Good night."
An actual excerpt from Richard Pennington's TV commercial for his election campaign (he's running for New Orleans mayor on Saturday): "I'll commit to you to fight crime, address our failing school system, and fix these raggedy streets." (Hey, I didn't say it.)
If you ever want to see one of your buddies or co-workers undergo a sudden-Sybil-like personality change, keep an eye on them once they have exceeded the golden rule of Bourbon Street: "Thou shalt not have more than three Hurricanes." On the right subject, the Hurricane aftereffects can be positively startling. Usually it's the unassuming/quiet guys who get affected the most; by the four-drink mark, they're cracking inappropriate jokes, buying everyone drinks in the general vicinity, hitting on women way out of their league, getting either touchy-feely or pugnacious (with no in-between) and making a general spectacle of themselves. I'm surprised this didn't translate effectively on the "Real World: New Orleans."
Sports Dog's picks

Bailey

After going 1-1 in the conference championship games and running his playoff record to 6-3-1, Bailey The Sports Dog caps off his successful season with his Super Bowl prediction. Bailey's 39-27-2 regular season record gave him a better winning percentage than more experienced NFL prognosticators, such as Bill Simmons, The Swami and Norman Chad.

Here are Bailey's predictions for the Super Bowl. St. Louis minus 14 over New England: Rams 45, Patriots 13 And Bailey puts all his bones on the over (53½).
Coolest event of the week so far: The media party, which was held on Wednesday night at the New Orleans Centre. Free booze, free food, tons of area chefs, all kinds of local dishes and the added excitement of watching media people descend on the free food like recently-released hostages who hadn't eaten in six months. The whole "Sneaking peeks at media name badges like you're sneaking a peek in the urinal" routine was in full-force -- everyone was doing it. Just a weird vibe going around all night.
Other than the whole "Show us your boobs!" phenomenon, the most entertaining subplot on Bourbon Street has to be the game show, "Who's Gonna Step In The Puke?" (a spinoff of the smash hit, "Who's Gonna Step In the Horse Manure?"). I found out about this last night -- I almost stepped in somebody's discarded lunch/dinner (yuk), somehow avoided it and heard a group of guys make that disappointed "Ohhhhhhhhh!" crowd sound, like I had just bounced a halfcourt shot off the back of the rim.
Total number of hours of sleep in the past three days for your buddy Sports Guy: Fourteen. I wish I were making this up. (Hey, at least those were 14 hours of quality sleep ... um ...) Super sideshow
My favorite "Contrived Super Bowl-Related Events of the Week" (I'm quoting verbatim from the media brochure they gave everyone): Wednesday (5-7 p.m.): "Campbell's Chunky Soup NFL Ultimate Defender skills event features seven defensive players from around the league ... scheduled to compete: LaVar Arrington, Kabeer Gbaja-Biamala, La'Roi Glover, Jevon Kearse, Brian Urlacher and Jason Taylor." Hopefully, there was a final event where all seven of them are fighting for a fumble in a giant pile. Can you imagine?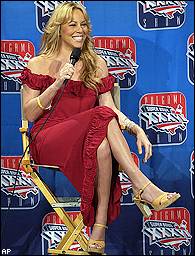 Couldn't "MTV Cribs" have gone inside Mariah Carey's hotel room during Super Bowl week?

Thursday (2-4 p.m.): "The pregame show and National Anthem media conference featuring Paul McCartney, Barry Manilow, Mariah Carey, Mary J. Blige, Marc Anthony, Yolanda Williams, James Ingram, Patti LaBelle, Wynonna and the Boston Pops." Now that's a group that probably won't be getting together again any time soon.

That reminds me, while Mariah's here, would it be too much to ask for MTV to fly down and film another MTV Cribs with her (the original was the funniest 30 minutes in the history of television)? They could just show her hotel room and her clothes, and she could say crazy Mariah Carey things. I would watch this. Thursday (5-7 p.m.): "A Women's Football 101 Clinic will take place at the NFL Experience ... this event is open to any women who purchases tickets to the Experience and will include instructions about football basics, as well as practice skills." Anyone who shows up barefoot and pregnant gets in for half-price. Friday (3-4 p.m.): "Hershey's Million Dollar Kick practice at NFL Experience. Contestant winner Randy Rial will tune up for his chance to win $1 million on Super Bowl Sunday under the tutelage of NFL kicker Mike Hollis." In other words, this isn't even the actual kick ... it's the guy practicing to make the kick. Sounds riveting. Fortunately, they have a big name like Mike Hollis to drive up media interest. I am Clubber Lang!
One of my highlights this week: Attending the "Madden 2002 Bowl," hosted at Tipitina's by EA Sports on Thursday night. Dozens of NFL stars on hand (just about every relevant NFL star under 25 was there). Groupies dolled up and ready to roll. Free drinks (free drinks!). Televisions hooked up with PlayStation 2, all in a row next to one another (like the greatest Circuit City wall you've ever seen). LL Cool J and Shannon Sharpe doing the commentary (fairly entertaining, if only because LL said the phrase "This is serious" roughly 73,400 times). A capable DJ mixing a hip-hop/rap mix in the background (almost sounded like the music for the actual game). There were eight players in the tournament, including Ricky Williams, Daunte Culpepper and defending champ Jacquez Green. Single elimination, four-minute quarters. But here's the weird part -- everyone played their own teams in the video game except for Green (the Ravens) and Williams (the Redskins). Good God, how can you not play your own football team in a "Madden" tournament? Totally perplexing. Apparently, Ricky liked the Washington cornerbacks and Green though the Ravens had the best defense. Whatever.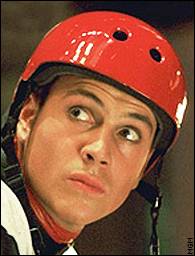 Actor Chris Klein came off like "a sixth-grade piano teacher" at the "Madden 2002 Bowl" party.

I spent most of my time scouting Green, the clear-cut favorite who can play and talk on his cellphone at the same time (that's almost as impressive as my ability to play "Madden" while walking 3.8 mph on the treadmill). He was wearing an old Dominique Wilkins Hawks jersey and looked totally underwhelmed by the competition. First, he rolled over Shaun Alexander, then Williams, then he walloped Saints cornerback Sammy Knight in the finals for his second consecutive title. I don't even think he broke a sweat.

Of course, his real competition was standing behind him. Me. During the entire tournament, I was stalking back and forth and hyperventilating like Clubber Lang. Watching this tournament without being able to play made me feel like a crack addict watching "Traffic" -- I practically had the shakes. And the most frustrating part was that Green wasn't seriously challenged all night. It was killing me. I know I can take him. Dammit, I know I can take him. (In fact, I'm making the challenge right now. Jacquez, I can take you. Name the time and the place. You don't want this.)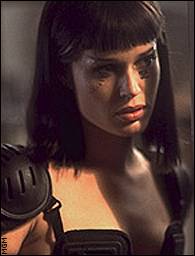 ... and Rebecca Romijn-Stamos wasn't even among the five most attractive women in the room.

Other notes from the tournament: There was palpable tension during the tournament (the boys were extremely competitive about it, and not even in that friendly of a way) ... no token white guy involved (couldn't they have flown Vinny Sutherland or Wayne Chrebet in?) ... the look on Shannon Sharpe's face every time Green completed a pass to Video Shannon Sharpe -- just utter glee (he seems like a great guy) ... I rooted for Duce Staley because of that little-known rule that you feel a bond with your fantasy players even after the season ends (of course, he got waxed) ... the most jarring guy to see in person was Culpepper, just an enormous dude (I can't believe he's a QB -- he looks like a defensive end) ...

They were pushing that horrible "Rollerball" remake on us all night, not just with LL, but with cameos on stage from Rebecca Romijn-Stamos and the wildly untalented Chris Klein ... Romijn-Stamos wasn't even one of the five best-looking women in the room (I'm not kidding -- that had to be the upset of the night) ... Chris Klein had the on-stage charisma of a sixth-grade piano teacher ... I have never rooted harder for a movie to fail ... don't even get me started ... I'm babbling. My best bets
My bosses forwarded me a list of Super Bowl proposition wagers from Vegas. If I were in Vegas -- and honestly, I wish I were in Vegas, because I'm probably not making it through this weekend alive -- I'd probably wager on the following things: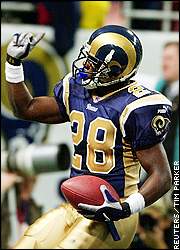 Marshall Faulk should catch plenty of passes Sunday.

Bet No. 1: That neither team will lead by 20 points or more at any time during the game ($100 to win $115). This Patriots team is pretty tough to blow out.

Bet No. 2: That Kurt Warner throws for more than 290 yards ($115 to win $100). The Pats will shut down the run, blitz the living bejeezus out of Warner, punish him as much as possible, and hope they can get lucky and force two or three mistakes. Bet No. 3: That Marshall Faulk catches more than six passes ($130 to win $100). Just have a gut feeling that the Rams will attack the Pats that way. Bet No. 4: That the Pats attempt more than 34½ passes during the game. They'll control the clock with the short passing game, the same ploy that worked for much of the season (especially in the Snow Game against Oakland). Bet No. 5: That there will be a special teams TD and/or defensive TD ($120 to win $100). Especially with these two teams involved.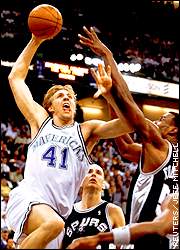 Dirk Nowitzki will put up more points against the Lakers than the Rams will amass first downs against the Pats.

Bet No. 6: That Marshall Faulk's receiving yards total (a 15½-point underdog) will beat the spread against the lowest fourth-round score by any player at the Pebble Beach golf tournament ($115 to win $100). He'll beat the lowest score (which will probably be in the 62-65 range) straight-up; he doesn't even need the spread (he's catching 75-100 easy).

Bet No. 7: That Dirk Nowitzki (favored by 3½ points) notches more points against the Lakers than the Rams total of first downs against the Pats. That's a layup. He'll have 30-plus against L.A. I can't believe the line isn't higher ... I also can't believe we're even having this conversation. Gotta love the Super Bowl. And finally ... my Super pick
All right, enough foreplay ... time for my Super Bowl prediction: I mean ... 14 points? Fourteen?!? Doesn't it matter that this Patriots team beat the Steelers in Pittsburgh last week? Or that they haven't been blown out of a game since Week 4? Or that Philly played the Rams pretty tough last week and came relatively close to stealing that game? Or that the formula for defeating the Rams -- force turnovers, disrupt their running game, pound Warner, make at least one major play on special teams, get at least one lucky break -- has been the unquestioned specialty of this particular Patriots team, not just during the playoffs but all season long? Doesn't any of this stuff matter?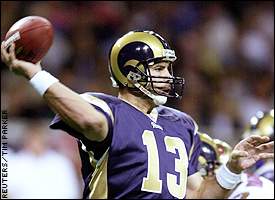 Kurt Warner can expect to see plenty of blitzes from the Patriots.

It seems to me that the question isn't "How do you beat the Rams?" but rather, "How can you make the Rams beat themselves?" And you know what? That's right in Team Belichick's wheelhouse. They thrive on this stuff. They turn the tables on teams. They have opponents sitting in the locker room after games going, "Man, we could have had that one, but they wanted it a little more than us."

Ever since the Rams-Patriots matchup became official, I couldn't stop thinking about how much this game reminded me of the '91 Super Bowl in Tampa, where the heavily favored Bills battled a gritty Giants team. When I mentioned this on a radio station this week, a friend of mine e-mailed me that night and said, "Dude, you're stealing Peter King's ideas, you must be slipping." (Turns out my buddy was right. King made a similar comparison last Monday in his superb "Monday Morning QB" column, which I read religiously every week ... except for this particular week. Why? Because the AOL connection is so slow in New Orleans that I can't even read my own columns, much less Peter King's columns. Seriously. Takes like five minutes to load Page 2, at least on my computer. What country am I in right now? Anyway, you'll just have to trust me.)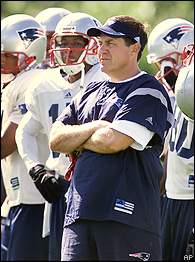 The Rams are tailor-made for a Team Belichick game plan.

But remember that Giants team? Nobody took them that seriously, even though Parcells was still coaching them (sound familiar?). They were a veteran group with no name stars other than LT (hmmmm ... that rings a bell). Jeff Hostetler subbed for an injured Phil Simms during the season, playing so well that he stole Simms' job (now it's getting eerie). They got lucky in the NFC Championship when Roger Craig fumbled as the Niners were trying to protect a lead in the final few minutes (shades of the Brady fumble/non-fumble?).

Wait, there's more. That year's Super Bowl rook place one week after Championship Weekend (just like this year) and right at the height of the Gulf War (you might remember the patriotic tilt and Whitney Houston's electric performance of the National Anthem -- shades of what we can expect Sunday). And the Giants were 11-point underdogs against an offensive juggernaut that was starting to look invincible at that point (if you remember, they had just beaten the Raiders in the AFC Championship Game by 48 points). Nobody gave the G-men a chance. And yet they kept that vaunted Bills offense in check, controlling the clock, playing the field position game and basically hanging around for most of the game. They put themselves in a position to win, which was something they had been doing all year. If you remember, just about everything the Giants needed to happen ended up happening during that game ... and they only prevailed by the length of a sliced field-goal attempt. Giants 20, Bills 19. The biggest Super Bowl upset since Namath's Jets in Super Bowl III. Until this weekend. Pats 24, Rams 23. Bill Simmons writes three columns a week for Page 2. He'll be filing "Postcards from New Orleans" every day during Super Bowl week.