By Bill Simmons
Page 2 columnist
For my season-ending "Movie Quotes/NBA Awards" column, we needed a movie that typified the 2001-2002 campaign: A high-stakes poker match filled with power struggles, wild gambles, rampant egos, twists and turns, idiotic maneuvers, women interfering, underdogs coming out of nowhere, ridiculous amounts of money being thrown around ... and that's only what was happening on the team charters.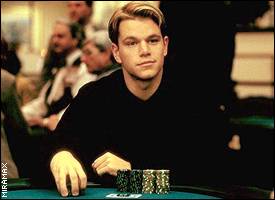 "Rounders" is one of those movies that can put a hop in your step -- and it also marks Matt Damon's last big-time performance.
So "Rounders" emerged as the obvious choice. Very few movies get you in the mood. And I mean, any mood. We've seen so many movies that you become immune to them after awhile. But every time I watch "Rounders," man ... it gets me fired up. I can't explain it. Somehow, improbably, "Rounders" has become required viewing before every Vegas trip (much like watching "Hoosiers" before you play basketball, or popping in "Dazed and Confused" while you're, um, hazing underclassmen). It just gives me the bug. I mean, is there a greater opening line in movie history than this one?
"Listen, here's the thing. If you can't spot the sucker in your first half hour at the table, then you are the sucker."
Bingo. I'm hooked. If I'm flicking channels and hear that line, I'm cooked for the next 100 minutes. Put a fork in me. This movie actually made me start playing poker in casinos against people who were missing teeth, for God's sake. It was practically life-altering, in a totally meaningless, useless sort of way. Anyway, to paraphrase Gale Sayers' eulogy about Brian Piccolo, "I love 'Rounders,' and I want you to love 'Rounders,' too." For one thing, the poker scenes are phenomenal (you need to watch it three or four times just to catch all the nuances and figure out what the heck is going on). Don't forget the catchy musical score, absorbing script and token feel-good ending (staples for any "Movie I Can Watch Again and Again" movie). And just like real life, there's a collection of good guys, bad guys, ambivalent guys, scumbags, hot babes and females that suck the life out of you. If that's not enough, "Rounders" also features Matt Damon's last big-time performance (as tortured hero Mike McD), as well as top-notch work from John Malkovich (as over-the-top Russian mobster Teddy KGB), John Turturro (as career grinder Knish), Famke Janssen (turning up the heat as a Russian poker player-vixen), and Ed Norton (absolutely peaking as Worm, Mike McD's scumbag buddy). Even the Unintentional Comedy Department is amply stacked, with both Gretchen Mol (a career-ending performance as Mike's whiny girlfriend) and Martin Landau (as a cross between a law school professor, Confucious, the Fairy Godmother and Red Auerbach). Sure, it's a guys' movie, but "Rounders" has something for everyone. And the 2001-2002 NBA season was like that, too -- maybe the most successful, fan-friendly regular season since '92-'93. So instead of handing out awards, we're handing out 35 quotes and exchanges from "Rounders" to the people, places and things that stood out during the NBA season: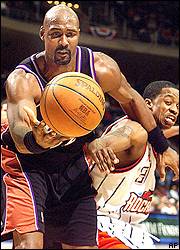 1. "Hanging around. Hanging around. Kid's got alligator blood."
To John Stockton and Karl Malone ... chugging along toward their 47th straight playoff appearance. It's bordering on the surreal, isn't it? These guys entered the league back when Demi Moore thought sleeping with Emilio Estevez was a good career move, and yet they still deliver the goods. Did you ever think in '85 that you'd still be watching Frasier Crane and Stockton-to-Malone in the year 2002? Just amazing.
(And this is coming from a guy who couldn't stand watching the Jazz for years and years, partly because they were boring, partly because Malone always seemed to shrink in crunch time when it truly mattered -- I gleefully called him "The Mail Fraud" back in the day. Now they're the undisputed Sentimental Favorites of the 2002 playoffs, proving the Kareem Abdul-Jabbar Corollary once again: "Any athlete can become a Sentimental Favorite
if
he hangs around long enough.")
2. "I'm gonna go all in because I don't think you have the spades."
"You're right ... I don't have the spades" (turning over two aces).
Teddy KGB's big play goes to the 76ers ... they could have rolled over about 20 times, yet they clawed their way to a winning season, a top-six seed and "The Road Still Goes Through Us In The East" status in the playoffs. Do you realize that Iverson missed 17 games (and counting), Aaron McKie missed 32 (and counting), Derrick Coleman missed 24, and Eric Snow missed 21? Or that Coleman was the only reliable power forward on the entire roster? Or that Matt Harpring -- Matt Harpring??!?!?!?!?! -- will top the 2,500-minute mark this season before everything's said and done? Read those last two sentences again. (By the way, when Teddy KGB turns over those aces, that gives birth to yet another face for the Hall of Fame of Faces: The Mike McDermott Face. Maybe Damon's finest moment in the movie -- he captured that "Holy crap, I just lost my shirt" look as well as it can possibly be done. And we've all been there. Maybe not for a $30,000 kick in the groin, but we've all been there.)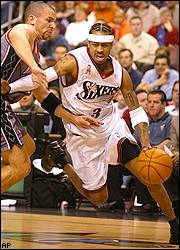 Despite all their injuries, Allen Iverson's Sixers might be the team to beat in the East.
3. "You don't hear much about guys who take their shot and miss, but I'll tell you what happens to them. They end up humping crappy jobs and graveyard shifts trying to figure out how they came up short."
To Lamar Odom ... hopefully this won't happen to you. There's still time. Now we need to figure out a way to get you to the Knicks before it's too late.
4. "So it got me to thinking --"
"Really, you're thinking now? That's big."
To Isiah Thomas ... it was tough for you to top last year's abominable coaching performance, but you actually managed to pull it off. How could the Pacers possibly miss the playoffs in the watered-down East with that much talent? How could a team with this many quality players play so listlessly and ineffectively together? How could a team blow this many big leads? It's almost impossible. Keep changing the players, Isiah -- it must be their fault. (My favorite Isiah moment: When they blew an 18-point second-half lead against the Celts two weeks ago, Isiah kept Brad Miller on the bench for the entire fourth quarter, even though Miller kills the C's and Boston was playing Rodney Rogers at center. You would have thought Isiah had money on the C's. How does he not get fired this summer? How? What more does he have to do? He even did a better job running the CBA, and the league went bankrupt.)
5. "They all know me as small-time. But that's about to change."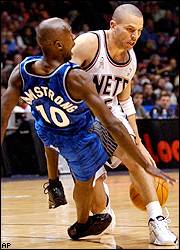 AP
Jason Kidd and the Nets could screw up NBC's plans for marketing the NBA Finals.
To the Nets, Pistons, Hornets and Celtics ... I mean, someone's coming out of the East, right? Can you imagine the Nets in the NBA Finals? I thought the Patriots winning the Super Bowl was a sign of the apocalypse ... what about NBC heading to the Meadowlands for Game Three of the 2002 NBA Finals? Can you imagine?
SHAQ! MCCULLOCH! IT'S THE NBA FINALS ON NBC!
6. "I think, clearly, the, uh, the case that controls the issue at bar is Texas vs Johnson."
The most awkward moment of the movie -- Mike McD botching a law school trial -- goes to the most awkward moment of the season ...every on-court appearance by Patrick Ewing. What is it about centers that causes them to age in dog years once they hit their late 30s? They always have that final season where they gain 20 pounds, they lose all hand-eye coordination, they run in slow motion, they jump like their shoes are loaded with razor blades ... all they have left is their turnaround jumper. It's like an automobile being completely stripped, but the radio being left behind for some reason. That's the turnaround jumper. (And yes, Hakeem, you're next. Please retire. We're begging you.)
7. "Ain't a good idea to add insult to injury. That (crap) will come back to haunt you."
To the Sacramento Kings ... who lead the league in "Most times laughing it up and embarrassing the other team during a blowout." Keep yukking it up, boys. We'll see how it plays out. Malone & Stockton are waiting in round one, Duncan in round two, and Kobe & Shaq in round three. Keep those laughs coming.
8. "I learned it from you, Mike. You always told me that this was the rule -- rule No. 1 -- throw in your cards when you know you can't win. Fold the hand."
To the Minnesota Timberwolves ... who should shake things up after their inevitable first-round stumble later this month. As I mentioned in last week's NBA column, Kevin Garnett might be the greatest Second Banana of all-time, but they haven't won anything with him, he's making $20 million a season, he's 26 and he still can't score consistently when it matters. So would it be
that
crazy to consider dealing him?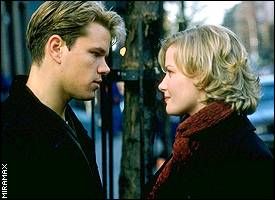 Gretchen Mol's performance took home the lifetime Anti-Oscar for "Worst Performance by a Female in a Good Movie."
Since he makes $20 million, it would probably have to be the Clippers -- for a package of Elton Brand, Michael Olowokandi and Quentin Richardson -- but wouldn't "KG in L.A." be a good thing for everyone involved? What about KG and Baby KG on the same team? Let's make this happen. Get the Commish involved.
(By the way, a quick round of applause to Gretchen Mol, for winning the lifetime Anti-Oscar for "Worst Performance by a Female in a Good Movie." Concentrate on her the next time you watch "Rounders" -- never has such an unredeeming, unlikable character been played by a more inept actress. It's like catching lightning in a bottle. It might never happen again. She's like Adrian Balboa crossed with Nicole Eggert ... and yet she doesn't detract from the movie because she embodies every "whiny, overprotective, squinty, wet blanket of a buddy's girlfriend" that you ever hated, and it isn't even wholly intentional. If that makes sense.)
9. "Nyet! Nyet! No more!"
To ABC, ESPN, TNT, AOLTV, NBA.ComTV, the Spice Channel and everyone else showing NBA games next season ... if there is even
one
Heat-Knicks game on the docket next season, NBA fans all across America are filing a class-action suit. I'm serious. Nyet.
10. "Did you have it?"
"Sorry, John. I don't remember."
One of the more inspiring moments in the movie -- Mike McD sitting down with the legendary Johnny Chan, bluffing his way to a pot, then shunning Johnny's attempt to read him -- goes to the most inspiring player of the season ... Detroit's Ben Wallace, who turned himself into the best rebounder and defensive player in the league simply by outworking everyone else. Where does Wallace rank among the "Best NBA Players of All-Time Who Also Possessed a Staggering Afro" list? Shouldn't this be a coffee table book?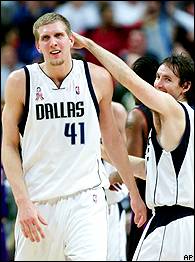 AP
You can bet the Lakers fear Dirk Nowitzki, left, Steve Nash and the Mavericks.
11. "You can't lose what you don't put in the middle ... but you can't win much, either."
To the Dallas Mavericks ... who made the biggest hit-or-miss deal (for Raef LaFrentz and Nick Van Exel) in recent memory. On the one hand, they have no cap flexibility, they might lose LaFrentz after the season, and they could have a potential cancer in Van Exel (especially if he and Nash can't adjust to playing together).
On the other hand, when they space the floor with Nowitzki, LaFrentz, Van Exel, Nash and Finley near the end of the games, and those guys are clicking together ... I mean, you think the Lakers aren't terrified of these guys? I watched them come into Boston and absolutely
destroy
the Celtics, including a 38-11 third quarter that was the most dominating stretch of hoops I've seen in years. Put it this way: During the Shaq-Kobe Era, you need some sort of gimmick to topple them in a seven-game series. From the gimmick standpoint, it doesn't get much more intriguing than "Five Guys Who Can Score From Anywhere On The Floor And Can Run You Into The Ground." We'll see.
12. "You were lookin' for that third three, but you forgot that Professor Green folded it on Fourth Street and now you're representing that you have it. The DA made his two pair, but he knows they're no good. Judge Kaplan was trying to squeeze out a diamond flush but he came up short, and Mr. Eisen is futilely hoping that his queens are going to stand up. So like I said, the Dean's bet is $20."
The third-biggest reach of the movie -- Mike McD reading everyone's hand at the law professors game -- goes to the third-biggest reach of the season ... the Blazers coming together under Mo Cheeks. Even Michelle Pfieffer turning around the lives of those inner-city kids in "Dangerous Minds" wasn't this improbable. Who woulda thunk? They're a viable upset pick in the first round, depending on the matchup. (As for Mike McD ... I'm sorry, nobody is
that
good at poker. I'm just not buying it. You can't walk into a room during the middle of a hand, glance around and read everybody in 2.4 seconds. Puh-leeeze.)
13. "Yeah, now, see, what did I ever do to that guy?"
"You (expletive) his mother."
"Hey, she was a good looking older lady!"
One of the best exchanges of the movie goes to one of the best things about the 2001-2002 season ... Barkley, Ernie and the Jet on TNT every Wednesday and Thursday night. Just a tour-de-force. The greatest TV studio show of my lifetime. And just for the record, if they don't extend an invitation for me to spend a night at the studio with them soon, I'm taking Dei Lynam hostage.
14. "Listen, this is one time I don't need you to tell me how I (expletive) up. I (expletive) up. What I need from you is money."
To the All-Overpaid Team ... which probably had NBA owners everywhere wishing they could say those words. This year's team:
On the cusp:
(Antawn Jamison ($85 million, five years remaining); Michael Dickerson ($45m, and it hasn't even started yet!); Jason Williams (ditto); Eddie Jones ($86.2m); Zydrunas Ilguaskas ($70.9m).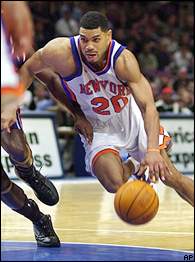 With a $100 million contract, Allan Houston is the MVP of the All-Overpaid Team.
Bench: Calvin Booth ($34m); Tom Gugliotta ($58.5m); Derek Anderson ($48m); Alan Henderson ($45m); Eddie Robinson ($42m), Tariq Abdul-Wahad ($43m), Shawn Bradley ($42.2 m); Erick Dampier ($48m); Ryan Bowen ($1.6m -- even $10.00 an hour is too much); Kelvin Cato ($42m); Austin Croshere ($51m); Tim Thomas ($67m); Jason Caffey (36.6m); Shandon Anderson ($42m); Howard Eisley ($41m).
Sixth Man:
Vin Baker ($86.7m).
Starters:
Shawn Kemp ($107m); Juwan Howard ($105m); Brian Grant ($85.64m); Allan Houston ($100.4m); Penny Hardaway ($86.68m). Nearly $500 million worth of players in the starting five. Houston gets the MVP, because he isn't even one of the top eight No. 2 guards in the league, he'll be 37 at the end of the contract, he doesn't make his teammates better, and no other team could have offered him more than $71 million ... and the Knicks were armed with this evidence and
still
gave him nine figures last summer. Just dumbfounding. It's like they were intentionally trying to drive the franchise into the ground. Hey, that reminds me ...
15. "Always leave yourself outs."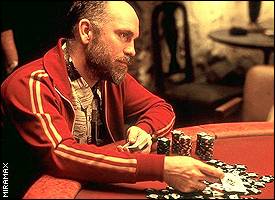 What could John Malkovich possibly have in common with Corey Feldman? See No. 16.
To the Knicks ... instead of keeping Ewing for one final season (at $16-plus million), then lopping his mammoth salary off their cap, they dealt him for cap cloggers (Travis Knight, Luc Longley), as well as an over-the-hill Glen Rice (who never fit in). Then they compounded the mistake by dealing Rice for two bench players making $83 million combined (Anderson and Eisley). Then they shelled out another $100 million for Houston. And have we mentioned $40 million plus for Clarence Weatherspoon and Othella Harrington?
Looking back, if they'd kept Ewing and waited for LJ to retire (which he did, earlier this season), they would have been swimming in cap room this summer. Now they won't be under the cap for years, and they have one of the least-flexible, least-interesting rosters in the league -- not a single talented player under the age of 28. And their two best players play the exact same position. Besides that, things look pretty good. (Fortunately for Knicks fans, the Knicks are in the Lottery again next month ... and I think we know what that means. Yao Ming should start condo-hunting in Manhattan right now, just to save some time.)
16. "And in my club, I will splash the pot whenever the (expletive) I pleazzzzze."
To Mark Cuban ... this sounds just like something you would say. (While we're here, did Malkovich's Russian accent even work as Teddy KGB? I'm still trying to figure this one out. Maybe the most over-the-top performance that didn't ruin a movie and actually even added to it since Corey Feldman in "Blown Away.")
17. "What kind of a job is that gonna be, Mike? Writing an opinion on high-stakes poker?"
The pissiest moment of the movie goes to the pissiest moment of the season ... the catfight between Kobe and Reggie at the Staples Center last March. Those guys could have traded punches for 20 minutes and nobody would have gotten hurt. But will we ever find out what Reggie said to trigger the catfight? Did he make fun of Kobe's nubile bride? "Jellybean" Joe Bryant? Kobe's hairline? Can't Barkley inadvertently blab this on the air so we know for sure?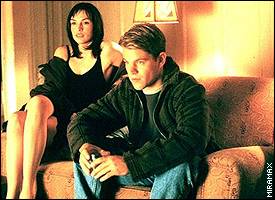 When Damon turns away Famke Jansen, it's the most unrealistic scene in the movie.
18. "Is that the '88 World Series? Johnny Chan, flops a nut straight, and has the discipline to wait it out ... look at the control ... look at that (expletive). He knows his man well enough to check it all the way ... he owns him."
The second-biggest reach in the movie -- Famke Janssen watching the '88 World Series of Poker with Mike, then eventually trying to seduce him, to no avail -- goes to the second-biggest reach of the season ... the Sonics finishing 10 games over .500 and landing the seventh playoff seed in the West, despite getting just 65 combined games out of Vin Baker and Calvin Booth.
Do you realize that Vlad Radmanovic, Ansu Sesay, Peja Drobnjak, Jerome James and Art Long all received extended looks at crunch time for Seattle this season? Or that Drobnjak has actually taken a couple of game-deciding shots? Or that the Sonics shot a league-leading 47 percent and averaged 97.5 ppg. this season, even though they didn't have a single low-post threat, even though the West is positively loaded? Or that they won games in Dallas, L.A., Sacramento and Portland this season? Kudos to GP and the gang. As for Famke, let's re-create the scene: Mike McD's girlfriend just moved out on him. He's watching an old World Series of Poker tape, his favorite tape on the planet. Famke comes over, looking unbelievably hot and easy. She gets excited by the telecast, kisses his butt about it and strokes Johnny Chan, his idol. Then she gives him a break on paying off Teddy KGB, even though he still owes Teddy seven grand. And to cap things off, she makes a move on him, rams her tongue down his throat and says, "Why don't I stay for awhile?" So how was Johnny Chan the only guy in that room who ended up flopping a nut straight? How could Mike McD send Famke packing? There isn't a man alive who would have sent her packing under those circumstances. Not a one.
COMING FRIDAY: Part 2 of The Sports Guy's NBA Awards.
Bill Simmons writes three columns a week for Page 2.