By Bill Simmons
Page 2 columnist
Before we turn our full attention to the NBA Finals, some burning questions remain from the first three rounds of the playoffs:
Question: Who was the undisputed star of the 2002 playoffs?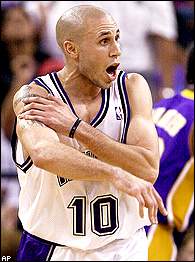 AP
Mike Bibby makes his teammates better and knows when to take over offensively.
Answer: Mike Bibby. Remember my column from March that ranked the most untradeable NBA players? Bibby never even cracked my Top 40. Now I'm ready to move him above Baron Davis, Andre Miller, Steve Francis and every other young point guard in the Top 20 ... in fact, let's make the move right now. Bibby makes his teammates better, he rises to the occasion when it truly matters (something he also did in college), and he possesses the ultra-rare, Isiah-like ability to get his teammates involved for three quarters, then take the game over offensively when you need him most. What else would you want from a point guard (other than maybe a Moochie Norris-size 'fro)?
After the first round, I compared Bibby to an evolutionary version of Mo Cheeks, but Mo couldn't consistently take over games like Bibby. There's a little John Stockton in his game (how he always makes the correct decision, how he comes off picks firing that 20-footer), and enough similarities between him and Isiah warrant at least broaching the discussion. Any way you examine it, Isiah was the greatest pure point guard of all-time. You couldn't draw up a better point guard on paper -- no visible flaws, tremendous defense, unparalleled leadership, best first step in the league, superior athletic ability, superior court vision -- with the added bonus that he could score whenever he wanted. Maybe Bibby won't surpass Isiah as a player, but he's the first point guard in two decades who at least makes you say, "That guy reminds me a little of Isiah."
And after the way Bibby carried the Kings for three rounds -- especially during Game 7 of the Kings-Lakers series, when his teammates looked more petrified than your average house of camp counselors at Crystal Lake -- not only did Bibby become The Alpha Dog on this team, he probably moved into that Kobe Bryant-Tracy McGrady-Paul Pierce-Dirk Nowitzki group as one of the most important under-25 players in the league.
Questions remain. For one thing, why would it take four full years for someone this talented to finally make The Leap? Was Bibby beaten down by all the losing in Vancouver? If they never traded him before moving to Memphis, could Bibby have seized control of that young team (Pau Gasol, Shane Battier, Lorenzen Wright) and turned them into one of those "Good Young Teams That Nobody Wants to Play"? Did contributing for a winning team, under minimum-pressure circumstances, allow him to slowly realize his vast potential (remember, this was a player selected ahead of Vince Carter, Pierce and Nowitzki in the 1998 draft)? Maybe we'll never know the answers.
More importantly, how could somebody this good be traded straight-up for Jason Freaking Williams? How could the rest of the league fall asleep here? Right when the trade happened, I remember calling my father and bitching about it -- Bibby always killed the Celtics, and you could always tell that he was the proverbial "Good Player Trapped on a Bad Team." That's been the biggest problem with the NBA over the past decade -- teams giving up on young players too soon, whether it's Elton Brand, Chris Webber, Steve Nash, Marcus Camby, Jerry Stackhouse, Antoine Walker (nearly traded about a dozen times), Antonio McDyess, Jason Kidd, Jermaine O'Neal, Bibby or whomever. Looking at Sacramento's team, they landed their two best guys (Webber and Bibby) simply because other teams gave up on them too soon. Just ridiculous.
Question: Who was the most fascinating player of the 2002 playoffs?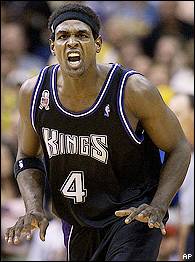 AP
Chris Webber still needs to rise to the occasion.
Answer: Webber, who officially grabbed the torch from Karl Malone, Patrick Ewing, Ralph Sampson and Elvin Hayes as "The High-Priced Superstar Who's Great to Have on Your Team Unless There's Three Minutes Left in a Big Game." None of this was really a surprise, but watching C-Webb figure out ways to eradicate himself from crunch-time possessions was the most intriguing subplot of the playoffs.
Didn't it crack you up when Webber would receive a high-post pass, spin 180 degrees so his back could face the basket -- Don't worry, I'm not shooting, have no fear! -- then desperately look to shuffle the basketball to the nearest available King? Has anyone even played Hot Potato to that degree? Even back in college, Webber was pulling this stuff (Jalen Rose probably took 90 percent of the big shots during the Fab Five Era). It's almost unprecedented.
When you think about it, only seven current NBA stars have exhibited a knack for consistently rising to the occasion when it truly matters: Michael Jordan, Bibby, Kobe, Kidd, Reggie Miller, Allen Iverson and Stockton (yes, John Stockton). Two weeks ago, Pierce would have been on the list -- and I still think he joins the group some day, based on his regular season and the way he played in the Philly series -- but we have to penalize him for subpar showings against the Pistons and Nets. T-Mac might grow into that type of player some day; so might Francis and Carter (who showed flashes in last year's playoffs). And I'm not giving up on Ray Allen yet. But right now, those are the seven guys. MJ, Bibby, Kobe, Kidd, Miller, Iverson and Stockton.
Two follow-up notes here:
1. Shaquille O'Neal doesn't make the list. The Lakers have shied away from him at crunch-time in too many games over the years, and you never get the sense that he raises his game when it matters. Shaq just chugs along ... he plays the same regardless of the situation. He's no choke artist, but he's no Reggie Miller, either.
2. Even as recently as last summer, J-Kidd wasn't making this list. In fact, this warrants its own question:
Question: Was Jason Kidd that good, or was the East that bad?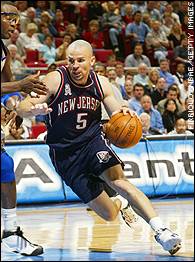 Tony Firriolo/NBAE/Getty Images
Jason Kidd is the East's man of the moment but a damn good one.
Answer: Yes and yes. Before this spring, Kidd's career was leaning toward the Elvin Hayes Memorial List; he never raised his game during Phoenix's numerous first-round collapses over the years, and he couldn't create enough crunch-time offense to push a good team over the top (the way Stockton did, for example). But something snapped for Kidd in the Indiana series, when he carried them down the stretch in all three victories (including a transcendent performance in the Game 5 double-OT victory, when he singlehandedly willed them to victory after Miller's buzzer-beating 3). That carried over to the Charlotte series and the Boston series (too many big moments to mention).
But here's the thing ...
If the Nets were playing out West, we wouldn't even be having this discussion. Playing against the much tougher Western Conference schedule would have cost them eight to 10 wins; they would have finished as a lower seed and gotten wiped out by the Lakers, Mavericks or Kings in Round 1. But beating up the East allowed their collective confidence to grow, something that continued in Round 1 (as they barely outlasted a flawed Pacers team), crystallized in Round 2 (against the banged-up Hornets), then totally peaked in Round 3 (against an exhausted Celtics team). By the end of May, the Nets were a juggernaut, a group of guys that simply play basketball well together, one of those "Whole Exceeds the Sum of Its Parts" teams.
(Note: To this basketball fan, this Nets team reinforced everything I ever liked about the game, even as they were beating up on my beloved Celtics. A team that actually executed fast breaks, found the open shooters, brought the best out of one another, rose to the occasion when it mattered ... I mean, what else could you ask for?)
Do Kidd and the Nets deserve every accolade imaginable? Absolutely. But you can't tell me that the Larry Holmes Corollary doesn't apply here. Remember Holmes? He held the heavyweight title for seven years, right after the heyday of Joe Frazier, Muhammad Ali and George Foreman. If Holmes had come along about eight years earlier, he would have been thrown right into that second tier of "Capable Opponents" along with Jimmy Young, Ken Norton, Ron Lyle, Earnie Shavers and everyone else, the guy's just a notch below the Big Three. As luck would have it, he missed every relevant fighter from the '70s, and his prime crested about two years before Mike Tyson started banging heads. Luck of the draw.
Switch San Antonio and New Jersey, and the Spurs are playing in June. Switch Portland and New Jersey, and the Blazers are playing in June. Switch Dallas and New Jersey ... well, you get the idea. Just like Iverson during last year's playoffs, Kidd emerged as the top player in the East simply because there was a vacancy, and because nobody else wanted it quite as badly. Just like Larry Holmes.
Question: What's the story with Doug Christie?
Did you see that New York Times article about Christie and his wife, the piece that resulted in the Whipped Hall of Fame being quickly changed to the Doug Christie Memorial Hall of Fame? Everyone has that one buddy who constantly makes up lame excuses because his wife or girlfriend won't let him leave the house, but Christie takes it to another level. This is unprecedented stuff. Few things have rendered me speechless over the years, but check out some of these tidbits:
You know when Christie raises his arm, extends his pinky and index fingers and signals into the air? He's actually signalling "I love you" to his wife (Jackie), something that happens 50-60 times a game, even during crunch-time. It's almost like he suffers from a whipped version of Tourette's.
Some direct quotes and excerpts: "With few exceptions, Doug Christie does not look at other women, avoiding dialogue or even direct contact" ... The Christies remarry every year on their anniversary, "not a mere renewal of their wedding vows but an actual wedding -- replete with friends, family cake and a reception" ... Mrs. Christie attends 25-30 of the Kings road games, always riding on the team charter ... "(She) arrives before games with her husband and leaves with him after" ... "She sends him a note in the locker room before every game, taken there by a team attendant. He writes a reply and sends it back" ... "Sometimes on the road, Jackie will ride in a car behind the team bus, talking to Doug until he arrives at the hotel or arena."

(I kept waiting for this part: "When Doug asked if he could attend Mateen Cleaves' bachelor party this season, his wife burned his clothes and set his BMW convertible on fire.")
My favorite part: "When Christie played for the Raptors, his wife once confronted a female fan seeking an autograph and a kiss in Toronto. 'A security guard grabbed her, but I put my hand up and told her to back off really loud,' she said. 'It scared me, because my voice sounded like a demon ... she was touching someone she shouldn't have been.'"

I guess there are three appropriate reactions here:

1. If you had one TV wish, wouldn't it be for the Christies to appear on "Temptation Island." I always write how this-and-that would make for the greatest TV series ever, but realistically, a "Temptation Island" with the Christies ... that would never be topped in the annals of TV history. That's the Comedy Ceiling right there, isn't it? Even my idea for the HBO talk show with Corey Haim, Corey Feldman and an open bar couldn't come close.

2. If you were granted an alternate TV wish, wouldn't it be for an "Osbournes"-style reality-TV show called "The Christies"? Just Doug getting harassed by his wife in episodes entitled "I wasn't looking at her!" and "I told you, that was Peja's fiancee!"

3. From this point forward, doesn't Christie's replica Kings jersey immediately become the best possible way for a group of guys to humiliate one of their emasculated buddies? Let's say you have that one friend who's spending a little too much time with a new girlfriend, and it seems like she's wearing the pants in the family, to the point that your buddy has been blowing you off. BOOM! Everyone chips in five bucks, you purchase the Christie jersey, and you mail it anonymously to him.

Question: What happened to your boy Paul Pierce?
A: Tough to say. For one thing, Pierce put too much pressure on himself with all the "Nobody can guard me" crap -- he seemed to be pressing for most of the Pistons and Nets series. Just no need for that stuff. You didn't hear Jason Kidd saying anything. It also seemed like the inconsistent officiating took Pierce out of his game; both Detroit and New Jersey were allowed to clutch, grab and hold, which made it impossible for Pierce to get open, because the Celtics were the first team in playoff history to advance to the Final Four with a two-paragraph playbook.

More importantly, Pierce and Antoine Walker were dead-tired by the time the Nets series rolled around; both of them logged over 4,000 minutes for the 98-game season, routinely averaging 46-47 minutes a game during the playoffs. During a local radio show last month, Jim O'Brien admitted that he played them too many minutes during the season, explaining that he made a November assessment that the Celtics could only make the playoffs if his two big guns logged an extraordinary amount of minutes (they finished 1-2 in the league) ... and if it affected them in the playoffs, so be it. And it did. Those guys didn't have their legs once May rolled around. That isn't an excuse, it's a fact.

One other factor here: The Celtics were the only Final Four team that lacked any semblance of playoff experience. If the conference was more balanced, they would have gotten their feet wet in the Philly series, lost in Round 2, then carried that "All right, now we know what to expect" mentality into the following season. But the East was so depleted, a team that was realistically 1-2 years away from becoming a viable title contender somehow ended up two victories away from the NBA Finals. As one of my buddies said on my answering machine after Game 6, "Your team has nothing to hang their heads about ... they just weren't ready yet." And they weren't.

Question: What was the most disturbing subplot of the playoffs?
Answer: The officiating, also the most disturbing subplot of the past four playoffs. If you examine the last four NBA playoff campaigns, during every situation where the league definitively "needed" one of the two teams involved to win -- either to A) change the momentum of a series so it didn't end prematurely, B) keep an attractive, big-market team alive in a series, or C) advance an attractive, big-market team to another round -- the officiating appeared to be slanted towards the team that needed that game. I use the phrase "appeared to be," because reviewing an official's performance is purely subjective. Maybe I'm dead-wrong.

These were just the games that jump out in my mind (again, I could be wrong):
1999, Knicks-Pacers, Game 3 ... LJ sinks a game-winning four-pointer (called a continuation foul by referee Jess Kersey even though LJ was fouled a full second before he released the ball).
1999, Knicks-Pacers, Game 6 ... Knicks last chance to close out Indy before the series shifts back to Indiana for Game 7 ... they get every call.
1999, Spurs-Knicks, Game 3 ... down 2-0, the Knicks get every call in their first home game and win their only game of the series.
2000, Knicks-Heat, Game 7 ... Knicks advance to the conference finals ... falling out of bounds, Latrell Sprewell awarded a timeout by referee Bennett Salvatore with 2.1 seconds left even though none of the Knicks called for one ... Sprewell admits after the game that he hadn't called a timeout ... the Miami players chase the referees off the court after the game, yelling that they had been robbed ... after the game, Jamal Mashburn tells reporters, "They had three officials in their pocket" and Tim Hardaway refers to referee Dick Bavetta as "Knick Bavetta."
2000, Lakers-Blazers, Game 7 ... LA shoots 21 more free throws and rallies back from a 17-point deficit in the final seven minutes ... Shaq plays an illegal defense down the stretch, undaunted ... Rasheed Wallace absolutely gets manhandled down the stretch, yet doesn't get a single call ... up by four with 25 seconds left, Shaq body-blocks Steve Smith out of bounds and the refs don't make the call (the most egregious non-call in recent memory).
2002, Celtics-Nets, Game 4 ... Celts up 2-1 ... the Nets are inexplicably allowed to push and shove Kenny Anderson and Pierce while they dribble the ball ... a number of head-scratchers go against Boston, including three offensive charges down the stretch ... four different "bull-(bleep)" chants during the game.
2002, Lakers-Kings, Game 6 ... LA needs a win to stay alive ... from an officiating standpoint, the most one-sided game of the past decade ... at least six dubious calls against the Kings in the fourth quarter alone ... LA averaged 22 free throws a game during the first five games of the series, then attempted 27 freebies in the fourth quarter alone of Game 6 ... rumors that David Stern wanted to pull a Vince McMahon and declare himself "The special guest referee" for this game prove unfounded.

(By the way, I would feel remiss if I didn't share this information: Dick Bavetta was assigned to every one of the above games. That's an absolute fact. You can look it up. Doesn't mean anything ... I just felt the need to pass that along. It sure looks bad, doesn't it? Maybe the league could do a favor for Bavetta and not assign him to Game 3 of the Finals, especially if the Lakers jump to a 2-0 lead over New Jersey. You wouldn't want to rile up those conspiracy theorists or anything. Ummmm ...)

Question: Where does the Sacramento-Lakers series rank among the best series of the past decade?
Answer: You need to consider five questions:

Would ESPN Classic show at least one of the games? Was there more than one memorable game in the series? Would the games hold up over time, just from the standpoint of watching good basketball? Did at least one player on each team raise their games when it truly mattered? And was there an inherent sense of drama during the defining game?

Yes, yes, yes, yes and yes. Game 4 featured an LA comeback and Horry's dramatic, game-winning 3 (one of the more memorable game-winners in recent years); Game 7 featured a road team winning in overtime, which hadn't happened in 20 years. Both of those games are ESPN Classic-worthy. There was also the inherent drama of the Two-Time Defending Champs responding to their first true test in three years, and the neophyte Kings trying to knock them off the block (reminiscent of the Bulls holding off the Pacers in Game 7 back in '98). Kobe, Bob Horry and Bibby all raised their games when it mattered, and Shaq was an absolute monster in Game 6. Other than the Game 6 debacle, every game featured a superior brand of basketball.

If that's not enough, Game 7 was the single-most dramatic NBA game since MJ's heyday. Just a beautiful, captivating game to watch -- well-officiated, well-played, incredibly dramatic (especially when the Kings started to tighten up) ... there were about 10 different points when you said, "They might be done," or "They have this locked up" about either team. And the star power involved, from Kobe & Shaq, to Bibby's emergence, to the star-crossed C-Webb, right down to all the role players ... you couldn't have asked for anything more. Best of all, the better team prevailed solely because of experience and guts. That's the way it should be.

From a pure basketball standpoint, I thought the series ranked right there with four of the best series from the past few years -- Raptors-Sixers, 2001; Pacers-Bulls, 1998; Lakers-Pacers, 2000; and Bulls-Sonics, 1996 -- but fell short of the caliber of the unforgettable Bulls-Suns Finals in '93 (which remains the standard of the past decade). From a dramatic standpoint, Lakers-Kings didn't quite approach the two Bulls-Jazz series -- simply because of the MJ Factor -- but probably ranked on par with the Pacers-Bulls series in '98 and ahead of anything else. Tremendous stuff. You just have the feeling that the Finals could end up being a letdown.

Question: What was a worse Gag Job, the Kings in Game 7 of the Western Finals, or the Blazers in Game 7 of the 2000 Western finals?
Answer: The Blazers ... easy. They blew a 15-point lead in the final six minutes and looked like a herd of deer staring into headlights. Everyone was afraid to shoot, they couldn't rebound, they stopped driving to the basket, and they stopped playing defense. And their coach failed to make any substitutions or call any timeouts to stop the bleeding. For my money, that's the most significant NBA playoffs collapse of all-time; people don't make nearly a big enough deal out of it.

Sacramento's Gag Job was a little different. Bibby was playing his heart out and singlehandedly keeping them alive, so there was never really a complete collapse ... but nobody will soon forget the overwhelmed expression on Webber's face, Christie short-arming those jumpers, and Peja's "Wide Right" airball with the game on the line (not to mention all those missed free throws throughout the game). If you're a Kings fan, that game's haunting you all summer like Captain Hook haunted the girl from "I Know What You Did last Summer."

(In case you were wondering where that game ranked along the "Levels of Losing," that was a Level Two "Stomach Punch Game." Peja nestled in the corner, setting up for the game-winning 3, ready to send the Kings to the Finals ... that was Scott Norwood-esque. And just for the record, if Peja had drained that 3, and then Kobe had raced back down and scored the game-winner at the buzzer, that would have been a Level One "Stomach Punch Game.")

Question: So who's winning the Finals?
Answer: Lakers in seven. They aren't quite as good as everyone thinks, and the Nets aren't as much of a pushover as everyone thinks ... there are some parallels to the 2000 Finals between LA and Indiana, which was a lot closer than people remember. Just give me some good basketball and Bruce Springsteen singing the national anthem in Game 3, and I'm happy. Now if you'll excuse me, I'm off to hang myself with my replica Paul Pierce jersey.

Bill Simmons writes three columns a week for Page 2.