By Bill Simmons
Page 2 columnist
Now that I'm writing so infrequently for Page 2, it's a shame to waste an entire column on a rebuttal. But when colleague Eric Neel claimed that today's NBA is far superior to the glory days in the '80s ... I mean, we can't let that slide. Can we send Eric to Basketball Jail for slandering the Bird/Magic Era like that? How can somebody call themselves an NBA fan, then desecrate the finest style of basketball anyone's ever seen?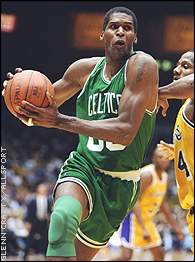 Glenn Cratty/Allsport
Robert Parish, Bird, Magic, DJ and Lew ... could it ever be better than 1984?
And if you don't believe me ... well, the evidence lies in a battered, grainy, 19 year-old videotape resting comfortably at the New & Improved Sports Guy Mansion: That's right, the original CBS broadcast of Game 4 of the 1984 Finals -- or as it's more commonly known, "The Greatest Game of All Time." This isn't even an argument, by the way; it's like saying, "I think 'The Godfather' might be the greatest mafia movie ever."
Sure, NBA players might jump higher these days. They're bigger and more athletic. They devote more energy on the defensive end. They're even a little more charismatic, although much of that charisma is woefully and famously misguided. But since Game 4 was played, the league evolved in a direction where A) that many good players can't possibly share the same court at the same time, and B) the rules don't allow anyone to compete at this level anymore.
Consider three questions over everything else:
1. What made Game 4 so transcendent?
2. What made Game 4 so fun to watch?
3. Was Larry Bird the modern-day Basketball Jesus?
(Whoops! Wrong column. Let's try No. 3 again.)
3. Is it possible to create the magic from Game 4 ever again?
Let's answer these babies one at a time...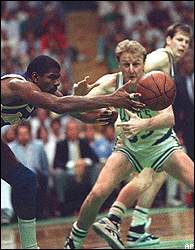 See how they're attacking?! See how Magic's always pushing the ball?!
1. What made Game 4 so transcendent?
The circumstances, for one thing. Magic against Larry. Showtime against the Celtics Mystique. West Coast against East Coast (the good old days, before rappers and bullets became involved). Tight shorts against tighter shorts. Brent Musberger doing the "You're looking live!" routine, with the timeless "NBA on CBS" music blaring in the background. And best of all, a grouchy Celtics team coming off a humiliating Game 3 loss, hoping to turn the series around (and they did).
When was the last time you watched a 129-125 overtime game where both teams played as hard as they possibly could? I mean, it's hard to score 129 points in a game ... yet the Celtics pulled it off on the road, doing it with their best scorers (Bird and McHale) shooting a combined 14-for-42. (Could the Lakers ever reach 129 with Kobe and Shaq going 14-for-42? Impossible.)
Game 4 featured enough fast breaks and eye-opening plays to fill a 30-minute NBA Entertainment video. What's better than a game involving two of the greatest players ever, at the height of their powers, fighting for the highest stakes imaginable, with the best supporting casts on the planet? How can that be topped?
Which raises the key issue here. Back in 1984, we were well past the ABA-NBA merger, and the league hadn't gotten greedy for expansion money yet. Instead of 29 teams, there were only 23. That meant the '84 Finals were stacked with more talented players than any in the past 30 years. Look at this list:
* Five Hall of Famers still in their primes (Bird, Magic, Parish, DJ and Kareem ... and by the way, I'm referring to Kareem as "Lew Alcindor" for the rest of this column, just in case there's a slim chance he's reading this and gets annoyed. Man, I despise Big Lew. Even after all these years. Anyway ...)
* Two Hall of Fame forwards just tapping their full potential (James Worthy and Kevin McHale), as well as another Hall of Famer with a little left in the tank (Bob McAdoo).
* Six more players who made at least one All-Star team in their careers, including three underrated stars from that era -- Cedric Maxwell, Michael Cooper and Jamaal Wilkes, all of whom rose to the occasion when it mattered -- plus Scott Wedman, Danny Ainge and Byron Scott.
* Three more quality role players (Gerald Henderson, Kurt Rambis and M.L. Carr, all of whom made their presence felt during the series), plus someone who won a rebounding title as Kareem's backup (Swen Nater).
If you're scoring at home, that's a whopping 18 high-caliber players playing in the same same game, including three of the greatest players ever, plus eight more All-Stars. Compare that to last year's NBA Finals; other than Shaq, Kobe, J-Kidd and maybe Robert Horry, could anyone from the 2002 Finals have secured a minute of PT in Game 4? You're telling me K.C. Jones is playing Martin and Van Horn over Bird, McHale and Maxwell? You're telling me Fisher, Fox and George are doing anything other than waving towels on the Lakers bench?

One more note: Magic and Bird were the two best passers of my lifetime, and devoting anything less than an entire column to that fact demeans everything they accomplished, so I'm brushing over it. Just remember that ...
A) they brought every one of their teammates to a higher place; B) their style of play was actually infectious, so other people started looking for the open man, almost like a basketball form of osmosis; and C) it was 10 times more entertaining to watch than this one-on-one crap today. Give me five players playing well together over Kobe and T-Mac taking someone off the dribble every day of the week and twice on Sunday. But that's just me. And I love the NBA, warts and all.
So the question remains ... why aren't teams as good now?
For one thing, players rarely develop an overall basketball sense, mainly because they play with so many different teammates -- high school teams, summer league, AAU, basketball camps, a year of college, then they're thrown into the fire, and they never really click with anybody (by the time they reach the NBA, that "every man for himself" mentality becomes ingrained in them, like a cancer). That's why an unselfish star like J-Kidd stands out, because he's the last of a dying breed. That's also why young LeBron James is so important -- forget his annoying Mom and the Hummers and retro jerseys and everything else, just remember the way he sees the court. We need more people like him. Desperately.
There's another problem, of course: Expansion. Imagine if the NBA folded the last six expansion teams -- Orlando, Miami, Minnesota, New Orleans, Memphis and Toronto -- and made their players available to everyone else in an explansion draft. Assuming they stage this like the NBA Draft (worst team picking first, second-worst team picking second, and so on), let's hold a mock draft and see how the league would look with 23 teams.
Here's how the draft might unfold. And just for the record, I had a little too much fun figuring this out. Anyway ...
1. Cleveland -- Kevin Garnett
2. Denver -- Tracy McGrady
3. L.A. Clippers -- Vince Carter
4. Chicago -- Jamal Mashburn
5. Atlanta -- Baron Davis
6. N.Y. Knicks -- Pau Gasol
7. Seattle -- Drew Gooden
8. Washington -- Antonio Davis
9. G-State -- Wally Szezcerbiak
10. Milwaukee -- Brian Grant
11. Phoenix -- Eddie Jones
12. Houston -- Mike Miller
13. L.A. Lakers -- Caron Butler
14. Boston -- Alvin Williams
15. Philly -- Jamaal Magliore
16. Utah -- Radoslav Nesterovic
17. Portland -- Lorenzen Wright
18. Indiana -- David Wesley
19. New Jersey -- P.J. Brown
20. Detroit -- Shane Battier
21. San Antonio -- Mo Peterson
22. Sacramento -- Grant Hill
23. Dallas -- Elden Campbell
24. Cleveland -- Jason Williams
25. Denver -- Troy Hudson
26. Chicago -- Stromile Swift
27. LA Clippers -- Pat Garrity
28. Atlanta -- Jerome Williams
29. N.Y. Knicks -- Alonzo Mourning
30. Seattle -- Darrell Armstrong

We'll stop there. Some quick follow-up comments:
Suddenly the worst teams in the league aren't so terrible anymore. Cleveland has a foundation of KG, Ricky Davis, Jason Williams and Ilguaskas, which rivals anyone in the East. Denver revolves things around T-Mac and their young forwards, which doesn't seem any worse on paper than his current (and above .500) Orlando squad. Chicago teams up Jalen Rose, Mashburn, Tyson Chandler and Jay Williams for the next few years. Baron Davis (if healthy) finally gives the Hawks a real point guard. And the Clippers (with Vince) can have five scorers whining for shots instead of four.
What about some of the Eastern teams who were one good player away from contending, then suddenly get their problem areas filled, like the Knicks (frontcourt scoring from Gasol), the Wizards (an inside presence with Davis) and Bucks (rebounding and hustle from Grant)? Or Western teams that needed scoring from the swingman position, like the Suns (Jones), Lakers (Butler) and Rockets (Miller)?
Notice how some of the playoff teams upgraded weak positions: Boston (J.R. Bremer to Alvin Williams); Utah (Greg Ostertag to Nesterovic); Detroit (Chucky Atkins to Wesley); San Antonio (Stephen Jackson to Mo-Pete); Phoenix (Joe Johnson to Eddie Jones); New Jersey (Aaron Williams to P.J. Brown); and Indiana (Jamaal Tinsley to David Wesley).

You get the idea. On the flip side, if you turned the NBA into a 29-team league back in 1984, maybe James Worthy ends up in Miami, Kevin McHale ends up in Orlando, Michael Cooper goes to Toronto and Danny Ainge heads to Memphis. Am I still bouncing my grandkids on my lap some day and telling them about Game 4, with Greg Kite, Quinn Buckner, Mike McGee and Mitch Kupchak logging major minutes in the place of those aforementioned four guys? Probably not.

To me, that's the biggest difference between then and now: Every top contender went eight or nine players deep, the bench guys actually added to the quality of the game, and you never knew who might make the biggest play of any given game. Other than Sacramento and (occasionally) Indiana, you couldn't say that about any NBA team in 2003.

2. Why was Game 4 so fun to watch?

Because it answered every nagging NBA problem from the past decade. For instance, Magic went "coast to coast" because he didn't have somebody's elbow buried in his stomach the entire time. Worthy soared to the basket with abandon because, at the time, defenders weren't allowed to jump in front of him, plant their feet and draw a charge after he jumped in the air. Bird darted off screens and drained open jumpers, mainly because Alcindor and Rambis weren't allowed to shove him out of bounds as he ran the baseline. Ainge, Cooper, Scott and DJ actually made jumpers when they were left open, unlike the bricks we're seeing today. And Big Lew unleashed his skyhook on the right block because Parish wasn't allowed to shove him out to the 3-point line.
My favorite things about Game 4, in no particular order:
McHale's clothesline of Rambis. I could watch this all day. In fact, I have.

There were five different times during the game when players had to be separated. Dick Stockton even gave us the "You could feel this coming" after McHale's clothesline -- there was genuine antipathy in the air all game. Remember when it was okay to hate your opponents?

Whenever Alcindor, Bird or Parish grabbed a rebound, they threw half-court outlet passes to jump-start fast breaks. A lost art these days.

Deep in the fourth quarter, Magic grabbed a rebound and fired it ahead to Rambis, who bounced a pass to a streaking Worthy in stride for his patented swoop dunk. When's the last time you saw a beautifully executed fast break during crunch-time?

This was the quintessential Bird game -- struggling from outside, he rolled up his sleeves, moved down low, banged the boards and ended up with 29 points and 21 rebounds (plus the two biggest shots in OT). For the game-winner, he ended up with Magic on a switch, brought him down low, and dropped a turnaround in his mug. Remember, this was an off-night.

In the fourth quarter, the C's played Bird, Maxwell, Parish and McHale at the same time, with Bird playing 2-guard next to DJ. Good golly.

Magic threw up a triple-double, (20-11-17), Worthy was unconscious (14-for-18 from the field), nobody could stop Kareem (31 points before fouling out) ... and the Lakers still lost.

ML Carr sealed the deal by hawking an inbounds pass, then sprinting down for the insurance dunk in OT. So the ninth man on the team made the clinching play. Think that would happen now?

Down by two in OT, 10 seconds to play, Worthy's at the line ... and he shortarms the first free throw. So Boston's Cedric Maxwell raises his arms, disdainfully walks from one side of the foul lane to the other, right in front of Worthy, and gives him the "Choke" sign with both hands. One of my all-time favorite Celtics moments. And it could never happen now -- Max would have been called for taunting. Whatever.

Game 4 also featured the crucial word for any entertaining NBA game ...
A-t-t-a-c-k.
There wasn't an idle second. If somebody on the Celtics missed a shot, all five Lakers were running the floor after the rebound. If somebody on either team was open, they shot the ball, no questions asked (and they could make the shots, too, which is a whole other story). When McHale or Alcindor received the ball down low, they didn't lollygag for five seconds while deciding what to do -- they either made their move immediately or tossed the ball back out to avoid the double-team.
When I was forcing the Sports Gal to watch the tape last night -- and I'm not even sure if "force" is a strong enough word here -- I kept telling her, "See how they're attacking? See how Magic's always pushing the ball? See how Bird's always firing the ball out after made baskets? See how fast Lew decides what he's doing?"
Of course, she was saying things like, "Is this almost over? This game's like 20 years old!" and "If you don't turn this off soon, I'm breaking up with you," but that's beside the point. Once teams adopt that "Attack! Attack!" mindset, good things happen -- more fast breaks, quicker shots, more movement, more chances for dunks and no-look passes, more points, more offensive rebounds, and more of everything else that made us love basketball once upon a time.
Three other outcomes from the "Attack" mindset:
A) Teams learn how to start and finish fast breaks. For example, the 2003 Celtics are 31-25 ... and they probably screw up eight out of every 10 fast breaks. I'm not kidding. They lose between 15 and 20 points a game by not taking advantage of turnovers and long rebounds, not just because they don't have a true point guard -- and let's face it, there are only a handful of true point guards left -- but because the wingman don't even keep their lanes.
(As amazing as this sounds, if I were running the point on a fast break, I would rather have the '84 version of Kurt Rambis on my wing than the '03 version of Antoine Walker. At least Rambis knew how to finish a play.)
B) When both teams are running and attacking, it invariably spills over to the half-court offenses and everyone keeps attacking. Right now, the only low-post player in the NBA who makes an immediate decision is Tim Duncan. That's it. Most of the other low-post players get the ball, hold it, check out the girls in the first three rows, take a few dribbles, and ultimately fling a pseudo-jumphook off the rim, or as I like to call it, "The Webber." That never happened back in the old days.
C) Game 4 was more physical than anything today, but in a good way: Fouls happened because players were playing hard and making statements, not because they had no clue what they were doing. I blame those Detroit "Bad Boys" teams and Riley's Knicks teams for ruining it in the late-'80s and early-'90s -- they went overboard with cheapshots and trash talking, everyone followed suit, it seeped down to the college level, and the NBA eventually cracked down because the whole league looked terrible.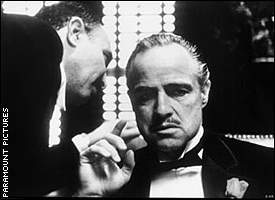 The '84 Finals and "The Godfather" ... It's not even a question.
Now? Players are too concerned about picking up flagrants, so you rarely see teams banging bodies like the old days. Also, nobody in the '80s was worried about getting shot after a game.
One more note on this: You might remember McHale's infamous clothesline of Rambis in Game 4 -- or as I like to call it, "Good Times" -- but what about Alcindor whistling an elbow two inches from the Basketball Jesus' face about two minutes later? A cheapshot and a borderline act of blasphemy? Absolutely. But it was a necessary elbow -- Lew was showing the Celts that his team wouldn't back down. An eye for an eye. Nowadays, McHale would have been thrown out, Big Lew would have been thrown out, and the rest of the players would have ambled weakly through the fourth quarter.
It all comes back to one word: Attack.
3. Is it possible to recreate the magic from Game 4 ever again?
Well, you won't see the same level of competitiveness again, not with the excessive rule changes. And that wasn't even the roughest playoff game from the '80s. Watch Game 7 of the 1981 Eastern Finals between Philly and Boston -- the last 12 minutes degenerate into a rugby match, with guys hitting the floor on just about every possession. It's crazy. There was an edge to those games in the '80s that doesn't exist anymore. They were battles. It wasn't just basketball. Anyone who was around back then knows what I mean.
As for the talent level ... I'm not sure about this one. Four years ago, I would have said "No way, we'll never see as much talent in the Finals again," but now we're seeing 4-to-5 quality foreign players enter the league every year. If that keeps happening, down the road -- and I'm talking about 10-15 years from now -- maybe a 30-team league won't be excessive. Of course, by then, we'll probably have a 50-team league on nine different continents, and I'll finally be able to know what it smells like when my skin is burning.
As for the quality of play ... I'm extremely worried about this one. Other than excess talent, Bird & Magic and that "Attack" mentality, Game 4 worked because of the way everyone moved the ball and looked for one another. I just don't see that happening enough anymore. Sacramento and Dallas consistently deliver the goods. I like the way the Spurs, Nets and Pistons play together, even if they aren't the most talented teams. Other than that, I enjoy watching individual players over everything else. And it shouldn't be that way.
Regardless, one thing's for sure ...
We will never see a game like Game 4 again in our lifetimes. Magic going coast to coast? Alcindor and McHale down low? Worthy flying to the hole? Michael Cooper's suffocating (and legal) defense? Parish and Maxwell always in the right places at the right times? Dennis Johnson willing his way to the basket? McAdoo, Wedman, Ainge, Cooper, Carr, Wilkes and McHale all coming off the bench? The Basketball Jesus just being Himself?
All in the same game?
Nope. Never again.
(Am I depressed? You betcha. Thanks, Eric.)
Bill Simmons is a columnist for Page 2 and ESPN The Magazine, as well as one of the writers for "Jimmy Kimmel Live.".