By Bill Simmons
Page 2 columnist
If Jerry Bruckheimer made a movie out of "Sunday, Sept. 7, 2003," the commercial definitely would have included lines like "Hold on to your seats!" and "The most explosive Boston sports day of the year!"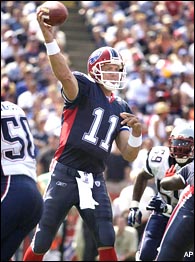 Drew Bledsoe finally got revenge on his former team Sunday.
You had the Patriots voyaging to Buffalo, kicking off their 2003 season against former teammates Drew Bledsoe and Lawyer Milloy. You had the Sox gunning for an improbable sweep at Yankee Stadium, trying to pull within a half-game of first place. And there was a dramatic wrinkle: Both games were happening at the exact same time.
My Dad put it best: "I'm not sure which game is bigger. ... I just know that there's a good chance my whole week could be completely ruined by 4 o'clock."
That's the rub. Even when things are going well, Boston fans fear the worst. If we won the lottery, we would immediately assume that 20 other people had the same number. That's just us. We're rarely happy. We're also insane. It's a tough combination.
But at least we care. And even from 3,000 miles away, I knew I needed to keep a running diary of the most memorable Boston sports day of the year. Here's what transpired:
8:45 a.m. (West Coast time): My alarm just went off.
8:54: Snooze alarm.
9:03: Snooze alarm.
9:12: Snooze alarm.
9:21: Ugh.
9:30: I'm barely awake, slurping coffee and wiping eye boogers ... and both games start in 30 minutes. How is this possible? What country is this? How are you supposed to locate your Game Face at 9:30 in the morning?
9:50: My buddy Hench arrives at the New Sports Guy Mansion ... he's already ranting about Jeff Suppan, who hasn't even finished warming up in the bullpen. Most Boston fans are insane; Hench is completely, utterly, totally insane. This is a man who was heading to his fantasy football draft last week and told his wife, "This day is the highlight of my year," when he just got married two months ago. That went over well.
10:00: Time for today's dilemma: During the NFL season, our group of friends watches Sunday's games at our friend Jimmy's house. So ... should we call and tell them we're coming late (because of the unprecedented Boston double-dip), or should we just show up at 1:30 and take the heat when we arrive? Right now, we're breaking down this baby Tim McCarver-style ... by the time we make a decision, both games will be over.
(We opt to not call. That means we're about three hours away from a Collective Male Guilt Trip -- the weird phenomenon when somebody disappoints the guys, then gets treated to the obligatory chilly reception when they finally show up. Now that prison rape has been outlawed, it's just about the worst experience you can have in a room filled with guys. And yet I digress.)
10:02: Reason No. 234 why I'm starting to hate DirecTV: The Baseball Package won't show both local broadcasts of the same game ... they arbitrarily pick one of them. Yup, you guessed it -- we're getting the Yankees announcers today. Also, Verne Lundquist and Dan Dierdorf are doing the Pats-Bills game. I'm not so sure that this is a bad omen.
10:07: Jeff Suppan's ERA going into today's game: 6.34. And it's deceiving. About three weeks after the Sox traded for him, my buddy Gus (one of the "Baseball Tonight" producers) and I had this exchange:
Me: Why didn't you tell me that Jeff Suppan sucks?
Gus: I thought you knew!
Now he's standing in the way of a possible sweep. As Hench says, "You know when managers tell pitchers to trust their stuff? With Suppan, the manager tells him, 'Um, don't trust your stuff. Just don't.' "
10:10: Just pressed the SAP button so we could avoid the Yankees announcers. Didn't work.
10:13: Twelve minutes into the NFL season, Priest Holmes already has a TD. Guess the hip's OK. Meanwhile, the Bills are driving ... and we're still not clear on who's starting at safety for the Pats this season. In video games, you cut Lawyer Milloy to save cap space, then create yourself to play safety. In real life, you're choosing between Aric Morris and Antwan Harris and wondering how you got there.
10:16: The Bills just scored a TD right as Jeff Suppan took the mound. "We might be at Jimmy's by 10:45," Hench jokes.
10:22: Nice toggling right now -- the Pats on offense (channel 709), Suppan battling Giambi with a guy on first (channel 754). For three minutes, the plays unfold in perfect sequence: A Pats play, followed by a pitch, followed by another play ... with Hench working the controller masterfully (as Giambi strikes out and the Pats botch a third-down screen pass). It's OK to get excited about the Toggle Zone, right?
10:27: We're battling some rookie nerves right now with my dog Dooze, who's celebrating her first NFL Sunday by standing in front of the living room window and barking at birds. She's pulling a Rick Ankiel. I might have to head to the mound and talk to her. With a rolled-up newspaper.
10:29: Bledsoe just hit Moulds in stride for a 50-yard bomb. Just for the record, in Drew's last four years in New England, he overthrew wide-open guys on that pass about 99.999999 percent of the time. Now he can't miss. Also, the Bills have outgained us 130 yards to two so far.
"This is going to be a (expletive) nightmare," Hench suddenly yelps. "I prepared myself this morning that it would be one of the most disappointing days of my life."
(Yeah! Boston sports! Go get 'em!)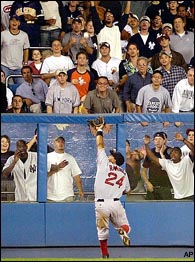 Manny Ramirez actually flashed some leather for the Red Sox this weekend.
10:34: Six up, six down for Jeff Suppan. Put it this way: Destiny isn't exactly sitting at the bar waiting for him to ask her out right now.
10:35: A flagrant holding penalty against Buffalo inadvertently spawns the first barrage of "Ho-ho-ho's!" from Dierdorf. By the way, could somebody get Bill Belichick a man-bro?
10:46: Manny Ramirez makes a remarkable catch to keep Suppan's no-no alive, the second time he robbed a Yankee this weekend. The first one happened Friday, when Manny made a running catch, bounced off the wall, tossed the ball into the stands, then jogged towards the dugout with his head down (as Sox announcer Jerry Remy muttered, "Two outs, Manny ... only two outs.") High comedy. Just Manny being Manny.
(Quick note: Remember in "Life Goes On," when Corky would put laundry detergent in the dishwasher or something -- his parents would just laugh it off, and you always admired the way they handled the situation? Well, that's how Sox fans are dealing with Manny at this point. You laugh it off. He's just Manny. There's nothing you can do. That's what you get when your team signs a hitting savant. I mean, it's not like any of this was a surprise, right?)
10:49: With impeccable timing, the Sports Gal enters the room to say hello to Hench ... and Buffalo promptly scores its second TD. Bills 14, Pats 0. It never fails. Somebody needs to perform an exorcism on her or something.
10:52: I mistakenly thought the Yankee announcers had invited Paul O'Neill in the booth for a couple of innings. Nope. He's paid to do this.
10:55: We turn back to the Pats just in time to see the Bills D celebrating, as Dierdorf chortles, "This Buffalo defense is fired up!" Just shoot me.
11:00: Jeter strikes the first Yankees hit as O'Neill affectionately calls him "Jeet." Get a room, guys. Meanwhile, we just came up with a fun game: The number of Buffalo first downs vs. the number of shameless promos for crappy CBS dramas that only contain one or two words. It's a dead-heat right now. Who watches these shows? Does anyone really sit home on a Friday night and think to themselves, "Just nine more minutes to 'Hack'?"
11:03 OK, here's my idea of Hell: Turning the channel to the football game, then seeing 350-pound Sam Adams rumbling down the sideline for a Bills TD while Dierdorf cackles hysterically in the background. Throw in hot coals, anchovies and some Clay Aiken music and we'd be all set. Bills 21, Pats 0.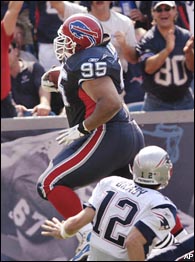 Would you stand in the way of Sam Adams if he was running right at you?
11:04: "I don't believe (Tom Brady) was throwing on purpose to Sam Adams," Dierdorf offers. I mean ... what's the proper response to that?
11:06: Shocking replay of George Steinbrenner whining like a baby, making irrational demands, bitching out everyone in his owner's suite ... then keeling over, unconscious.
(Sorry about that. I just wanted to see what that would look like in print.)
11:10: Hench and I just spent the last five minutes wondering who has more of a noodle arm in center field: Bernie Williams or Johnny Damon (a k a, the Unfrozen Caveman Center Fielder). I say Damon -- he throws like Kevin Costner's Dad at the end of "Field of Dreams." Hench believes that any fan in the stands would have a 60-percent chance of having a better arm than either of them. This is why you need an "Outfielder Challenge" -- along the lines of the "Quarterback Challenge." Who wouldn't watch this?
11:12: Let's be honest: It's not often in life that you hear the words "Jeff Suppan" and "pitcher's duel" in the same sentence. I'm just going to enjoy this while it lasts.
11:14: With the score headed towards 21-0 on channel 709, Hench officially dubs the Pats game "The Abortion on 709." Sounds like a Lifetime movie.
11:18: Check out these Bizarro World numbers.
Brady's stats: 2-for-7, 4 yards, 2 INTs.
Suppan's stats: 5 innings, 1 hit, 1 walk, 0 runs.
(I'm speechless.)
11:22: Flipping channels, I just realized something: I kinda miss Gus Johnson and Brent Jones. There. I said it.
11:26: Lawyer Milloy sacks Brady. That's one more play than he made all last season. Regardless, it prompts Hench's first Lasorda-like meltdown of the morning: "How can we let Milloy go six days before the Buffalo game when we don't have anyone else????????? How did that make (bleeping) sense????? Now he knows our plays, he knows our audibles ... we should have just mailed Buffalo our (bleeping) playbook! This is (bleeping) awful!!!!!!!!!!!!! What the (bleep)!!!!!!!!!"
11:32: Well, it's finally halftime: Bills 24, Pats 0. If this were a "Madden 2004" game, I'd be pressing the RESET button right now.
11:37: Reason No. 34,257 why I hate the Yankees: They show their dugout and Torre, Stottlemyre and Zimmer are all sitting there motionless, their arms folded, wearing sunglasses, looking like they just dropped dead about 10 minutes ago from the same bad batch of bad tapioca ... and for some reason, the cameraman decides that this makes for a fascinating 20-second shot. God, I hate the Yankees.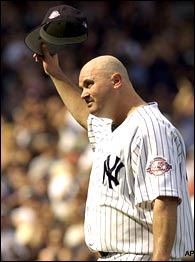 David Wells may not be very attractive, but he got the job done on Sunday.
11:42: First and third, two outs ... and Gabe Kapler strides to the plate against the pear-shaped Wells, who's pitching brilliantly even though he's about 54 years old. Kapler has charcoal spread under his eyes, only something got screwed up and it streaked down the sides of his face. He looks like a little kid. And no, I don't even need to tell you how this at-bat turned out.
11:43: My Dad calls to ask, "Did we keep the receipt on Gabe Kapler?" More importantly, it's the first time he hasn't called Kapler "Gabe Kaplan" all season. That was huge.
11:46: I'm not positive, but I think Paul O'Neill just passed out in the middle of a sentence.
11:48: Flipping channels, we just saw Edgerrin James get dragged down from behind by someone who grabbed his dreadlocks. When I was a kid, players wore breakaway jerseys that ripped when somebody pulled on them. Now they're getting dragged down from behind by their dreadlocks. I think we're headed in the wrong direction.
11:49: Let the roto stampede for Anquan Boldin begin!
11:53: Still scoreless, bottom of the seventh ... and the drama is building. If this were Vegas, Jeff Suppan would be up two grand at a $25 table, his buddies would be trying to convince him to cash in his chips, and he'd be telling them, "Just let me go through one more shoe, and I'm done."
11:55: Now Soup's getting behind batters. You can feel the meltdown coming, David Banner-style. Meanwhile, Hench is so out of control right now, we just had this exchange:
Me: What are you going to be like if we make the playoffs?
Hench: I'm going to be a maniac. My wife actually thinks I should take sedatives.
Me: Like the stuff people take when they have to fly?
Hench: Yeah. Exactly. I'm thinking about it.
Me (looking for the right response): Um, cool.
11:55: Jason Giambi is one for his last 39 right now. For some reason, this makes me cue up the scene in "The Program" when Lattimer gets bowled backwards on the goal line.
12:01: With two outs, Posada on first and Suppan suddenly serving more meatballs than Rocco DiSpirito's mother, Bernie Williams ropes a hanging fastball into the right field stands -- 2-0, Yankees. Did you know someone could throw a hanging fastball? Me neither. Good God. It's officially Black Sunday.
12:08: I just came in from the bullpen and replaced a reeling Hench with the remote -- he looks like Rodney Peete right now. We just spent the last 30 seconds on Black Starz.
12:13: After the Unfrozen Cavemen Center Fielder and Bill Mueller reach base, Joe Torre pulls off one of his patented 20-minute stall tactics that only the Yankees can get away with ... and Mariano Rivera finally comes roaring out of the bullpen. He's like Diane Lane right now -- maybe he's a little worn-down, but he still looks damn good at times, and he always manages to get the job done. With that said, there isn't a game that goes by where I don't root for his right arm to come flying off.
Meanwhile, my Dad calls to predict an outfield pop-out for Nomar, who stopped producing regularly in the clutch about three years ago.
"Nobody writes about this," Dad gripes. "He's just like Mo Vaughn and Jim Rice -- great when you're up by six runs, but you don't want him batting when you actually need a hit. I'm tired of watching him." Apparently.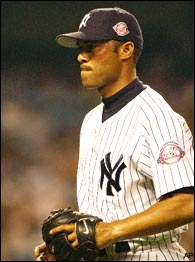 Despite his recent struggles, Mariano Rivera was clutch against the Sox on Sunday.
12:18: David Patten catches a TD pass out of bounds ... and Nomar pops out to center. I'm starting to wonder if the phrase "Black Sunday" does this day justice.
12:22: Almost simultaneously, Manny finagles a cheap RBI bloop single to right as Deion Branch drops a TD on fourth-and-goal. Two potential TDs for the Pats ... no points. While we're reeling from that, Poppy (David Ortiz) quickly makes the third out of the inning. Yanks 2, Sox 1. And the Insurance Run looms.
12:23: My Dad calls again: "Didn't I tell you? They should have told Nomar the score was 8-1, maybe he would have gotten a hit." Ouch.
12:27: Well, we've given up on the Pats game. Flight 709 has officially crashed.
12:31: With Suppan done for the day -- his best outing of the season, by the way, and thank God -- Alan Embree comes in and immediately yields an RBI single to Nick Johnson (3-1, Yanks). That leads to the following exchange:
Me: How would you describe the Red Sox bullpen in one word?
Hench (without missing a beat): Predictable? Leaky? Embattled? Snakebitten? Mesa-esque?
12:33: Flipping channels, we see Houston kick a field goal to jump ahead of Miami, 15-14 ... sending suicide pools across the country into complete chaos. There's a reason they call them "suicide pools," folks. And I'll give you one guess who I picked this week.
12:35: Scott Williamson enters the game and promptly walks Jeter on five pitches. If somebody wrote a book about the 2003 Red Sox bullpen, it would either be called "He's All Over the Place," "There's a Drive ..." or "As I Lay Dying."
12:38: Heading to the bathroom, Hench hisses, "In honor of the Red Sox bullpen, I'm going to take a leak."
12:40: Scott Sauerbeck enters the game to pitch to Giambi, as Hench screams, "I'm a one-pitch pitcher, and I can't throw that pitch for a strike. Put me in coach!" Just for the record, my Dad accidentally called this guy "Sauersuck" last week, the most appropriate malapropism of all-time. Somehow, he induces an inning-ending double play.
12:42: Flipping channels, I realize I'm about to win my first NFL wager of the season -- thanks to one of those half-hearted Peyton Manning game-winning drives where he barely brings the Colts into field-goal range.
That fails to soften the blow of ...
12:48: Yankees 3, Sox 1. Game Over. Rivera gets the save. Meanwhile, it's Bills 28, Pats 0. And Hench and I just had this exchange:
Me: I feel like committing a hate crime right now.
Hench: Why, because we were just the victim of one?
1:05: Your final score from Buffalo: Bills 31, Pats 0. In other words, the Red Sox outscored the Pats today ... and they scored one run.
Here's my recap on Black Sunday: "Pure, unadulterated Hell."
Here's Hench's take: "The happiest moment of the day was a bloop single ... we're 2½ back of the Yanks ... the Pats' season is over ... we alienated our friends ... and the entire day was brought to us by the Yankees announcers and a cackling Dan Dierdorf. I think that was the worst three hours of my life."
1:02: My Dad calls for the final word: "Can I just say how much I was totally looking forward to today's games? I got up early, read all the papers ... now I feel like I want to hang myself. Just another day in the life of a Boston sports fan."
Indeed.
Bill Simmons is a columnist for Page 2 and ESPN The Magazine, and he's a writer for Jimmy Kimmel Live.