By Bill Simmons
Page 2 columnist
If you're looking for an unbiased perspective, you came to the wrong place. Hours after watching the Red Sox finish off their improbable comeback against the A's, there isn't a discernable emotion remaining in my body. I'm tapped.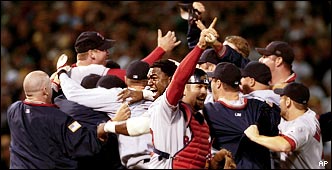 AP Photo
The Red Sox celebrate the end of their six-day torture of Page 2's Bill Simmons.
Was it fun?
(Yeah, I guess.) Did I enjoy it? (Ummmm ... I think so.) Would I ever want to go through it again? (Definitely not.) How can you celebrate with nary an emotion left in your body? (You can't.) At what point does unbridled joy give way to relief and stunned shock? (Right after the final out, and within 2.3 seconds.) Ever spend four hours doing the "Let's break up/let's get back together" dance, then ultimately get back together in the end (at least for a couple more weeks)? That's what this A's-Sox series felt like. My team won three straight "do-or-die" games -- each by the skin of its teeth, each in crazier fashion than the last, and each while being managed by somebody who almost appears to be crying out for help (we'll get to him in a second) -- and now we must regroup for a seven-game series with the Yankees, the most evil franchise in the history of sports. Well, I can't regroup. Not yet. As my buddy Hench would say, this is a "therapeutic rant." I can't get over what happened over the past three days. A quick recap: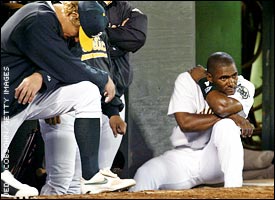 Getty Images
Eric Byrnes, left, and Miguel Tejada are both proud graduates of the Jeremy Giambi School of Baserunning.
For starters, Game 3 featured two Oakland runners thrown out at home: One who failed to understand the logistics of Rule 7.06B (which I would explain if I understood what it meant), the other because Jason Varitek blocked the plate so perfectly that the runner tripped over his foot, twisted his ankle, hopped around like a failed skateboarder on Hollywood Boulevard, shoved Varitek as he tried to retrieve the ball, then got tagged out (while the home plate umpire stood there and twiddled his thumbs -- that's always fun). Two of the strangest plays in recent history ... and they happened within minutes of each other. Go figure.
After those plays, we were feeling pretty optimistic: It was like the Tuck Rule and Tom Brady all over again. So we were waiting, and waiting ... and Mike Timlin held the fort ... and then Trot Nixon ended things with a magnificent 11th-inning blast into the center-field bleachers, which was ironic because A.) Trot should have started the game; and B.) Grady Little pinch-hit for him in Game 1. The guy finishes fourth in the league in OPS ... suddenly he's a situational hitter in the playoffs? That makes perfect sense. Somehow, everything worked out in the end, as they often do with Grady. And Trot had his Bernie Carbo moment, a home run which I'll probably watch 1,500 more times on TiVO before everything's said and done (while fast-forwarding through the part when he thanks the Lord).
Just 16 hours later, when Tim Hudson exited after one inning with an strained oblique muscle -- which might or might not have been suffered in a Boston bar fight against five guys who looked exactly like CT from the "Real World: Paris" -- it looked we were headed back to Oakland. Not so fast. Former Tiger Steve Sparks somehow held the Sox in check, at least just long enough for Grady to allow 40-year-old John Burkett to pitch the sixth inning -- after 95 pitches and five gruesome, excruciating, "He's one pitch away from getting shellacked" innings, capped by Eric Byrnes' near-grand slam that narrowly missed Pesky's Pole -- and Burkett promptly gave up FOUR STRAIGHT (EXPLETIVE) LINE DRIVES (!!!!!!!!!) before Grady mercifully yanked him. Now ... As I wrote last Friday, there are two kinds of disastrous managerial moves: The ones you second-guess, and the ones that make you scream "Wait a second... what the hell is he doing????" right as they're happening. Well, Grady sending Burkett out for the sixth was my all-time "What the hell is he doing?" baseball moment. I still can't believe it happened. Burkett was playing with the house money at that point. Everyone in the ballpark knew it. Except one man.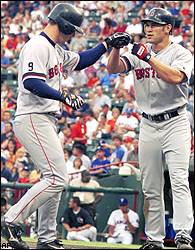 AP
Did Grady Little even watch Trot Nixon during the regular season?
(Important note: This was also the inning when my buddy J-Bug -- sitting in the first row behind the Sox bullpen -- was kicked out of Fenway Park for heckling Ricardo Rincon in Spanish. The J-Bug is 100-percent Irish. You couldn't make this stuff up.)
So we're headed towards a classic battle in the eighth: The resourceful, never-say-die Sox offense against a superb closer (Keith Foulke) who has been "lights-out" (as Steve Lyons would say, may I never quote that man again in my life). Nomar doubles off the wall (huge hit). Manny raps a two-out single, then runs down the line with his arm raised for no reason. (That's just Manny being Manny; even Jamie Quirk wasn't this quirky.) Then David "Poppy" Ortiz shakes off an 0-for-16 slump and knocks a Hendu-esque two-run double off the wall. Unbelievable. Two of the 10 most memorable hits in Fenway history -- Trot's homer and Poppy's double -- and they happen about 18 hours apart. Even better, the possibly-rejuvenated Scott Williamson closes the game in the ninth -- looking lights-out, by the way -- as Byung-Hyun Kim stews in the bullpen, one game removed from flipping Fenway fans the finger before Game 3. In one week, Kim has gone from being trusted with a save opportunity in Game 1 to probably being left off the playoff roster in Round Two. Just another day in the life of the Red Sox bullpen.
Before we get to Game 5, I should mention three things: 1.) I wore the same shirt for the past three days -- a white T-shirt with a Jack Davis cartoon of a Sox player on the front. I settled on this outfit after my game-worn 1986 Sox jersey of Rob Woodward failed in Game 1 and my lucky Sox cap failed in Game 2. Also, Hench wore the same T-shirt and underwear for three straight days. I wish I were making this up.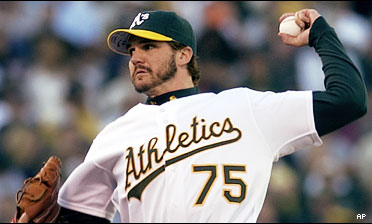 AP Photo
Barry Zito started to fall apart in the sixth.
2.) While we were watching Game 3 at my house, Hench made me switch seats in the fifth -- I moved to the sofa, he moved to the comfy leather chair. Shortly after that pivotal move, Tejada was tagged out on Rule 7.06B, and the Sox eventually prevailed. We ended up sitting in the same seats for every game. Wearing the same exact clothes.
3.) Neither of us believe in the Curse of the Bambino, but we believe in everything you just read in the past two paragraphs. You figure it out. That brings us to Game 5: Pedro against Zito, winner takes all. Vegas listed the Sox as a minus-170 favorite, strictly on the fact that Zito was A.) pitching on three days rest; B.) was out partying Friday night; and C.) looks enough like Eric Roberts that it makes everyone uncomfortable. Just before 5 o'clock, Hench arrived in some sort of tortured frenzy, already agonizing about how Grady would screw up the pivotal game. That's when we decided that, if the Sox win Game 5, Grady should be left off the playoff roster for the following series. They can do it to players, why not managers? The game starts. Pedro and Zito start matching zeroes. Tensions rise, especially as we wonder if Gabe Kapler is available to pinch-run on Yom Kippur. Down 1-0 in the sixth, Varitek smacks a homer into left field. Beautiful. Suddenly, Zito is laboring, and that swooping curveball is bouncing on home plate, and two guys are on, and Manny's up, and my God is he due, and ... BOOM! A three-run homer! Sox lead 4-1! Manny spends four seconds admiring it, skips around the bases and jumps into the arms of Poppy, Millar, Varitek, Ace, Gary and everyone else in Boston's "overly-friendly, bordering on Apollo and Rocky's awkward beach hug at all times" dugout. Regardless, a nice moment -- one that even prompted me to run around my house -- until Fox's Thom Brenneman vents that Manny violated the sanctity of the game. Isn't this the same sport where Barry Bonds preens -- that's right, preens -- after every home run? So Manny can't get excited because he broke out his slump and knocked one of the biggest homers of his career? He's a bad guy? Please.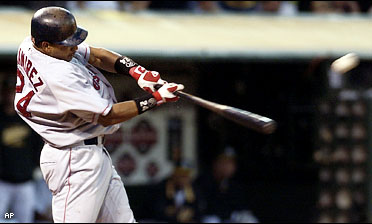 AP Photo
Can't we let Manny enjoy his only homer of the series?
(It's bad enough I had to listen to Dave Justice call Tim Hudson "Huddie" in Game 1; now I have to hear a play-by-play guy giving me a lecture on how my team should play sports. Thank God for the mute button.)
Now it's the bottom of the sixth. Up by three runs, Grady decides to bring in a defensive replacement for his No. 3 hitter -- Damian Jackson for Todd Walker, which (as I mentioned last Friday) constitutes about a 15-percent upgrade at best. It's like watching "The Handler" instead of "Hack" on CBS ... you're not really making or breaking your Friday night either way. More importantly, IT'S THE SIXTH DAMN INNING!!!!!!!!!!!!!!!! As Hench said, "I've watched probably 500 baseball games this year. I've been watching baseball all my life. And never, NOT ONCE, have I seen a defensive replacement in the sixth inning! WHAT THE HELL IS GOING ON!!!!!!!!!!!!!!!!" Both of us know immediately: This is coming back to haunt us. Either Jackson screws up a double play, or his at-bat comes up in a big spot ... something's going to happen. It's too dumb, too illogical. This is the way sports works. When a coach does something indefensibly moronic in a big game, the move always rears its ugly head in the end. And this was indefensible. In the playoffs, you're not supposed to deviate much from what you've been doing all season, unless it's an emergency or somebody's trapped under something. When you start panicking, that's when you get into trouble. You don't take out your No. 3 hitter in the sixth inning, not with
this
bullpen. End of story. (Now we're waiting for the Other Shoe to Drop ...) Fast-forward to the seventh inning: 4-2, Jermaine Dye pops one into shallow center, the Unfrozen Caveman Center Fielder (Johnny Damon) scurries under it ... and here comes Jackson, and he won't stop running ... and SPLAT! A sickening collision of heads (shades of Vinnie Johnson and Adrian Dantley in the Pistons-Celtics series in '87, about an hour before Isiah Limbaugh said that Bird would be "just another good guy" if he were black). Somehow, Nomar scoops it up and guns the guy out at second (kudos to Bill Mueller for covering the bag). Yet another incredible play (the fifth time in three games that an Oakland baserunner was thrown out at a base other than first).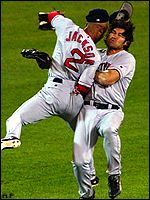 The minute Damian Jackson entered the game, you knew something bad was going to happen.
More importantly, poor Damon ends up with a concussion and gets carried off on one of those depressing stretchers. (They should use these in Vegas after somebody gets demolished by a black-jack dealer.) Jackson is woozy and disoriented but remains in the game, which gives him something in common with his manager. The Sox lose their leadoff hitter for God knows how long. The team loses all its momentum. And Pedro has to wait about 20 minutes, plus Boston's round of at-bats, before he comes out again.
Now Hench and I are dying. We're
dying.
We spend 10 minutes trying to remember if anyone won the World Series with an incompetent manager before, finally taking solace in the fact that it happened with Arizona and Bob Brenly just two years ago. And we still have to get six outs -- with Williamson having thrown 28 pitches yesterday, with Kim in exile, with Sauerbeck and Suppan unusable. The things that killed the Sox all season (shaky managing, shaky bullpen) were resurfacing yet again. Fast-forward to the eighth: After Grady pinch-runs for Ortiz, the unhittable Chad Bradford manages to get out of the inning, meaning Grady has managed to eliminate our first, third and fifth batters from the game ... a game destined for extra innings, no less. Just an unbelievable run for Grady this week. He did everything but order the tiger to attack Roy. Anyway, in the bottom of the eighth, thanks to the extended delay, Pedro comes out and gives up two seeds. Now it's 4-3. I can't even remember what happened next ... I just remember Mike Timlin getting us out of the inning. Thank God for Timlin, our only consistently reliable reliever all season. And with Scott Hatteberg leading off the ninth -- a finicky batter looking to walk every time because he's a career .267 hitter -- Timlin's clearly coming in to start the ninth, since he only walked nine batters all season. Um, right?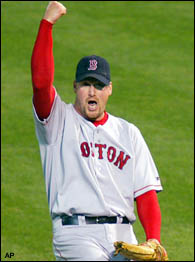 AP
It's a new version of the Derek Lowe Face.
Of course not.
Williamson comes into pitch the ninth. He threw two innings and 28 pitches at Fenway on Sunday. Perfect choice. He immediately walks Hatteberg, one of the five most predictable things that ever happened in the history of baseball. For good measure, he walks the next guy, too. I'm not blaming him -- he shouldn't have been out there. There's one reliable reliever on the entire team (Timlin), and he pitched to one batter in the biggest game of the season. Perfectly logical. Now Derek Lowe comes in. Hench and I are standing. We're not even sure why. The life has been sucked from our bodies; Manny's homer in the sixth seems like it happened in 1996. It's down to Saturday night's starter -- as well as the guy who once owned the dreaded Derek Lowe Face -- to save the season. My right leg is shaking. Hench is rocking back and forth like he just saw the Blair Witch. While Lowe warms up, we have the following exchange:
Hench:
"Did you ever think about what a nervous breakdown feels like? Like, you're so nervous, your brain literally collapses onto itself? Can you imagine that?"
Me:
"Um ... yeah. You're not going to have one, are you?"
Hench (still rocking back and forth):
"Well, not tonight. But I can kinda understand what it would feel like to have one. I mean, after tonight. Does that make sense?" Actually, it kinda did.
That's what the baseball playoffs feel like. Every pitch matters. Every decision has ramifications that could last for the next 50 years. When cameras zoom in for close-ups of the players, you can see their nose hairs and the little white pimples you get from shaving too many times in the same week. No game lasts less than three hours. You can't relax for a second. Your stomach churns. Your heart pounds. You're totally helpless. You can't breath. You don't want the season to end. And that's the happy part ... my season didn't end. Derek Lowe came through. After Hernandez bunted the runners over and Grady moved the infield in (just so any grounder could get through for the winning run), Lowe whiffed the backup catcher on an unhittable sinker. He pitched around Singleton to load the bases, Grady moved the outfield back toward the fence so any single would win the game, then Lowe whiffed the always-atrocious Terrence Long on that same nasty sinker. Piece of cake. Never a doubt.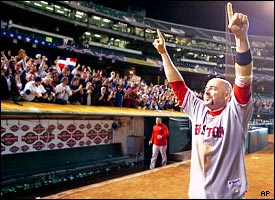 AP Photo
Kevin Millar is without a doubt a fan favorite.
(Note: The preceding paragraph was infinitely more dramatic when it happened, even causing me to see those little white dots at one point. I wish I were kidding.)
We won. Well, I think we won ... I could barely see straight. Hench and I exchanged an awkward beach hug and about 35 high-fives. Our cellphones started ringing off the hook. The Sox mobbed one another, then headed back to the locker room before visiting Johnny D in the hospital. A confused Grady Little tried to pinch-run the clubhouse attendant for an A's security guard. And Hench and I headed out to get some chicken . . . two punch-drunk Red Sox fans who had just been through hell and back. What a game. Part of me wants to win the title so we never have to hear about the stupid curse again, and so the Yankees fans can shut the hell up, and Dan Shaughnessy won't have anything to write about, and I can watch a grounder roll down the first base line in the ninth inning of a pivotal playoff game -- which happened Monday night, by the way -- without a condescending announcer eagerly dropping Bill Buckner's name five or six more times (as if we were too stupid to get the reference). The other part -- the happier part -- wants to be in Boston when we win, just to hear what the city sounds like. I want to hug my Dad, see the look on his face. I want to get drunk with Red Sox fans that night, just like New Orleans and the Pats all over again. I want to call my friends who suffered through all the ups and downs. I want to accept congratulations from everybody I know. I just want to win. I don't feel sorry for myself, and I don't care about the past, and I don't think I deserve these things any more than Cubs fans, Astros fans, Indians fans or anyone else. I just want to win. And I think every Sox fan feels that way. That's why people shouldn't argue things like "Deep down, Sox fans would be disappointed if they won the World Series" and "The whole region would lose its identity." What a load of crap. No true Sox fan feels that way. We want to win the World Series, and we want to go through the Yankees to do it. There's no other way. And if we're going to war with a shaky manager and a rollercoaster ride of a bullpen, so be it. Now if you'll excuse me, I have to go throw up.
Bill Simmons is a columnist for Page 2 and ESPN The Magazine, as well as one of the writers for Jimmy Kimmel Live on ABC