By Bill Simmons
Page 2 columnist
Editor's Note: The Sports Guy is writing a running blog from Super Bowl XXXVIII in Houston, and he will be updating it a couple of times each day.
Updated: Thursday, 8:30 p.m. ET
HOUSTON -- Right now, it's pouring rain outside. When I write my book about Super Bowl XXXVIII, it's going to be called "Just Another Crappy Day in Houston!" Anyway, something has been bothering me all week: Everyone down here thinks Carolina will give the Patriots a close game, possibly even winning outright. This seems to happen every time there's a mismatch on a paper, but the game seems just close enough that everyone has a good time talking themselves into the underdog. That's what happens when you have two weeks between Championship Weekend and the Super Bowl. What drives me crazy is when people who
should
know their stuff casually dismiss the Pats. Like Chris Mortensen -- we were arguing in the ESPN makeshift offices today. He thinks that the Panthers can win. "Are you crazy?" I kept saying to him. "You've been covering football forever. You should know how these things work!" Mort wouldn't budge. Apparently, he thought Carolina's performance over the past three weeks was much more impressive than New England's performance over the past four months. Which certainly makes sense.
So let's talk about it -- logically, without even mentioning a single matchup. Just look at the two teams. To get here, the Panthers drew a mediocre Cowboys team, a comically coached Rams team, then a banged-up Eagles team that lost its best player in the second quarter. Just two months ago, they lost three consecutive games. Now they're a juggernaut because they emerged from a terrible conference? Listening to this heresy the past few days, I don't know whether I want to argue with this people or encourage them. Please keep thinking this. Seriously. Maybe the line will dip below seven by game time. At this rate, I'll have HDTV, XM Radio
and
a 40-inch plasma TV by the end of the playoffs. I'm saving my big pick for Friday -- you probably know where I'm headed. In the meantime, think about the Patriots and their 14-game winning streak. For some reason, this keeps getting overlooked. You would think a 14-game winning streak was hard to overlook. You would think. Consider the following things:
The Pats lost their last game against the Redskins on Sept. 28. The baseball playoffs started two days later. Now, we're about three weeks away from pitchers and catchers reporting ... and they still haven't lost a game. Only one other team in the history of the league -- the '72 Dolphins -- has won more games in a row than New England. And nobody seems to be even mildly impressed by this.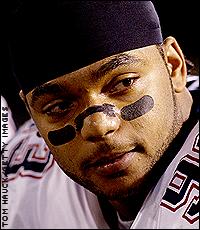 Richard Seymour and the Pats defense have allowed just one 100-yard rusher this season.
Of those 14 victories, eight of them came against teams that won 10 games or more. The Panthers only played four teams with a winning record all season ... and they still lost five games! If this were the BCS, they would have been playing in the Galleryfurniture.com Bowl.
Looking back over these past four months, the best teams were the Pats, Titans, Eagles and Colts. They were the cream of the crop. And the Pats went 5-0 against those other three teams. Has that ever happened before?
During the duration of this streak -- 14 consecutive wins over nearly four months -- do you know how many times the Pats made the cover of Sports Illustrated? Zero. Not once. They were never favored by more than eight points in any of the 14 games. So why not continue to overlook them this week?
As amazing as this sounds, they still haven't played their best game. In none of those 14 wins did they slap together four top-notch quarters in a row. Seriously. Maybe the closest was the Buffalo game in Week 17.
The Pats defense has only allowed one 100-yard rusher all season. Sixteen of the 18 quarterbacks they played ended up with a lower QB rating then they had for the rest of the season. They also have the best coach in the league. And their starting QB has a record of 39-12. Apparently none of this matters.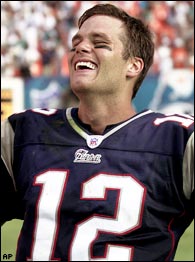 AP Photo
Remember Tom Brady has already won a Super Bowl.
They're playing the fourth seed from the NFC ... and the NFC absolutely sucked this season. The disparity between the two conferences hasn't been this glaring since the early-'90s. Just look at what happened with that Packers-Seahawks-Vikings-Cowboys debacle in the past two weeks -- the Pack went from needing a miracle to make the playoffs to being everyone's sleeper in the span of 12 hours. Anyway, if the Super Bowl has taught us anything, it's this: When the best team from a superior conference has two weeks to prepare for an upstart team from an inferior conference, the game usually gets out of hand early (see San Diego-San Fran, Denver-Atlanta, Baltimore-N.Y. Giants, Chicago-New England). Especially with a shaky QB on the inferior team involved. For the team from the inferior conference, the Super Bowl feels like jumping from the All-Pro level to All-Madden. That's just a fact.
The Panthers lost three consecutive games less than two months ago. They also prevailed in three of the luckiest games of the season -- the fourth-and-10 to beat the Jags, the blocked extra point to beat the Bucs, and Jim Haslett's meltdown in New Orleans. Yeah, you need some luck ... but they were three plays away from being 8-8. You could make a case that the Panthers are the weakest team that has ever made a Super Bowl (and if I had more time, I would). It's between them, the '95 Chargers and the '99 Falcons -- at least on my list. Has any team ever won a conference championship by having their QB throw three times in the second half of a relatively close game? Come on. You think John Fox took the ball out of Delhomme's hands because he wanted to rest him? And with all of that said, here's the line for this week's game: Patriots by 7. And the majority of people like the Panthers. Please tell me how any of this makes sense. Updated: Thursday, 12:45 p.m. ET
For the past eight years, Sony PlayStation and 989 Sports have thrown a Super Bowl party together. For the past eight years, one star from each Super Bowl team has competed in the most current version of "NFL GameDay." And for the past eight years, the player who prevailed ended up winning a Super Bowl ring just a few days later. Now that's pretty impressive. Eight-and-oh? According to the strangest man I've ever met in my life, ABC co-worker Rick Rosner -- a guy who has a "Born to do math" tattoo -- the probabilities against this happening are very high. Clearly, something creepy was happening here. So, when I found out that Troy Brown was playing Steve Smith for this year's championship ... well, I needed to be there. Was the Super Bowl really about to be decided before the actual game? More importantly, if Smith lost the game, would he inexplicably punch out my man Troy -- re-enacting the way he punched out his teammate in the receivers meeting last season? I needed to know this stuff. The event was being held at Icon, a brand spanking-new, ultra-chic hotel located right on Main Street -- perfect in case you want to toss down a few martinis, then get pancaked by the Light Rail train on the way home. By all indications, the Icon is becoming the happening hotel this week. There's a drinking lounge on the second floor that's downright cool -- multiple rooms, dim lighting, comfy sofas and chairs, and about 45 waitresses walking around. And these aren't ugly waitresses. I can't wait to see a drunken NFL player drink too much Courvoisier, get confused and offer one of the $200 for a lap dance. (That reminds me, here's a bonus point for Texas: The women are beautiful. The younger ones look like Fembots; the older ones have impeccable grooming and could easily guest-host any morning show. And they're wasted next to goofy, fat guys in cowboy hats, or chain-smokers with bad toups. Go figure.) With about 300 media members on hand, the streak had obviously taken on a life of its own. Everyone was crammed into a lounge off the front lobby, grouped around a makeshift stage covered with plasma TVs, with the game console and the player's TV facing the audience. I wandered around looking for a line on the game; nobody had one. Why the hell wasn't this on sportsbook.com? Since Brown won the title two years ago, I made him a three-point favorite -- then wagered against the nearest available opponent (a guy who works with Tony Bruno).

Our announcers for the evening? Pat O'Brien and Deion Sanders. Pat was wearing a Kangol hat, grey suede jacket and jeans that were anchored by an oversized Texas belt buckle. "Does he realize that he's white?" somebody behind me asked. Excellent question. I like Pat though -- I like anyone who could wear that outfit in front of 400 people.

Meanwhile, Neon Deion was wearing one of David Byrne's leftover suits from the "Stop Making Sense" concert. He and Pat made quite a combo.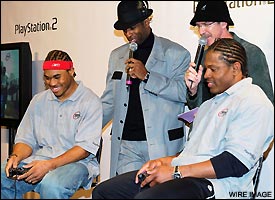 It was a long, long trip back to the team hotel for Troy Brown.

Brown and Smith come out to mild applause, wearing matching cornrows and seeming just a little too intense. Hey, I don't blame them. With the well-known streak on the line, apparently teammates of both guys were putting extra pressure on them this week. Pat announced that they would be playing three-minute quarters, which I thought was an outrage. Any true video football battle needs to have five-minute quarters. It's not even a debate. One turnover and you're done. Whatever.

Troy wins the coin toss, takes the ball and drives down the field in six plays, pretty much using the same play every time -- a quick run up the middle from Antowain Smith. 7-0, Patriots. This is good. That led to this exchange:
Me: If I were playing, I would move up my strong safety and use one of those 4-3 defenses that stacks the line. Cute lady behind me: (Dead silence, semi-horrified)
Now, Smith had the ball. After two shaky plays, he busted Stephen Davis up the middle on third-and-long ... and Davis never stopped running. In real life, he would have pulled up lame at the 20 with a hip flexor. Not in video games. Tie game. Smith hopped up, started to do a dance and stopped himself. "What's up?" he yelled, his heart not really in it. "What's up????" Without 400 people in the room, I'd bet anything he would have added a good-natured F-bomb. Now, this would have been a perfect time for Brown to say, "Sorry, I can't hear you, my Super Bowl ring is clogging my ear." But he didn't. He should have hired me as his manager. To his credit, Brown responded with a time-consuming drive that chewed up most of the abbreviated second quarter. With a little more than a minute to play, holding the ball on first down inside the 20, Brown made his first mistake: He angered the Video Game Gods. That's right ... he just sat there letting all 35 seconds of the play clock click down, so Smith couldn't get the ball back before halftime. Somewhere Mike Martz was beaming in approval. "This is bad," I told the cute lady behind me. "He's angering the Video Game Gods. You can't do this." While she glanced around for a security guard, I turned back to the game just in time to see Antowain running the ball up the middle, getting another first down, then... SPLACK! Fumble!!!!!!!! And the Panthers recover! Now I'm furious. That was Troy's fault. Everyone knows that football games have an "All right, this guy's playing like a wuss" trigger that activates something bad to happen. It's a distant cousin of the "No F------ Way Game," the game when you've won too many games in a row during a season, and the Play Station activates that "There's no f------ way you're winning this game" chip. Smith doesn't wait very long to capitalize -- he runs Davis up the middle for another long TD. 14-7, Panthers. With just enough time to mount a quick drive, Troy completes a couple of long passes, then goes insane when he gets inside the 20, throwing two up-for-grab, Delhomme-esque passes in the end zone, then taking a killer sack on third down. Suddenly, he's going for it on fourth-and-way-long -- not settling for the field goal -- and that pass gets deflected away as well. Halftime. As for me, I'm ready to commit a homicide. What's wrong with Troy Brown? Hasn't he ever played a football video game before? He's going to lose the Super Bowl for us! Do I go down and talk to him? Would that be overstepping my bounds? Who's coaching his offense, Kevin Gilbride?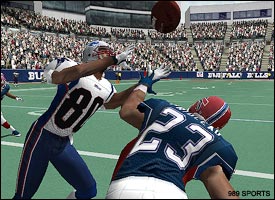 When the dust settled, Troy couldn't defend his title.

Smith gets the ball to start the second half, as the pilot has officially turned off the "You shouldn't chew your nails at a promotional party for a video game" sign. I'm chomping away. Doesn't matter that I'm standing in the second balcony of the swankest hotel lounge in Houston, surrounded by Fembot cocktail waitresses and PR people. There isn't a bigger dork in Texas.

(And by the way, is "swankest" a word? And if it is, why hasn't somebody named a magazine "Swankest" yet? It could be a men's mag, a porn mag, one of those Maxim ripoffs ... the possibilities are endless. And yes, I'm drunk again. Where was I?) So what happens? Stephen Davis right up the middle, same play, for another long TD. If that's not bad enough, Deion is screaming "Ohhhhhhhhh! Ohhhhhhhhhhhhh!" as Pat O'Brien narrates the action. I'm in hell. "I'm sorry," one of the GameDay PR ladies tells me, sensing that I might jump over the balcony. "Well, it's a great game you guys have," I hiss at her. "I didn't realize Stephen Davis was the greatest running back of all-time." (Waiting two beats as she's frozen in horror.) "I'm just kidding, I'm just kidding," I say, smiling. (Actually, I wasn't kidding. Please tell me how Stephen Davis outruns every Patriots defender on three straight long TDs on three consecutive drives. Please tell me how this would ever happen in real life. Can't we get Michael Westbrook's video game character in here to cold-cock him?) As I'm thinking about this stuff, Smith does something unbelievable -- he goes for the two-point conversion ... and gets it to make the score 22-7. There have been rappers who have shot each other for doing that. It's the ultimate insult. Remember the scene in "Goodfellas" when Billy Batts tells Tommy, "Now go get your shine box?" Going for the two-point in front of 400 people is 10 times worse than that. Smith could have stood up and peed on Brown's right leg and it wouldn't have been as insulting. Rattled by the whole thing, Troy completely abandons his game plan, resorting to the old Geoff Gallo playbook. Geoff was my roommate in the mid-'90s -- when we played Madden, he would drop the QB back 15 yards, have him run around for 10 seconds and elude pass-rushers, then throw the ball deep and hope one of his receivers made a play. Sometimes, it even worked! This used to drive me insane, especially when he cackled after a big play. Right now, he's reading this and cackling, and even that's annoying me. Here's the point: I used to beat Geoff all the time. That Gallo offense doesn't work. It's never worked. It's like using a band-aid instead of getting stitches -- yeah, maybe it will stop the bleeding for a little while, but the cut's not closing if it's deep enough. Now they're trading touchdowns, as I contemplate moving to my toenails, Brown gets a big play using the Gallo offense. Taking a page from Dick Vermeil's playbook, he eschews the onside kick and kicks away -- bad move, since he hasn't stopped Smith once -- and Smith answers with another long Davis run (his fourth of the day). (By the way, if Stephen Davis was one-tenth as good in real life as he is in this game, we would still be talking about the greatest athlete of all-time. I feel very strongly about this.) With time dwindling and Deion's cackling gaining steam, Brown responds with another TD from the Gallo offense ... but wastes a timeout in the process (I never realized he graduated from the Art Shell School of Clock Management). There's 1:34 left. Onside kick time ... he doesn't get it. Fortunately, he has two timeouts left, although three would have been even better -- and he doesn't have to resort to the "Intentional offsides to stop the clock" maneuver, a Bill Simmons staple, and definitely something that teams should try in real life (I highly recommend it). Following two short runs (and two timeouts), it's time for the play of the game: third-and-11 for Smith. If he's smart, he's passing here. A lesser man would run the ball, hope for a first down, chew up some clock and punt away. Here's what happens: Delhomme back to pass, scrambles right ... finds Video Steve Smith for a first down. Ballgame. Absolutely, positively one of the 10 greatest moments of Steve Smith's life. Nobody will convince me otherwise. He pumps his fist and tries to rein himself in, but you just know he wants to leap around and high-five about 50 cameramen. As for Troy, he sits there with a thin smile on his face, hoping he didn't blow the actual Super Bowl. After it ends, they successfully execute a six-step handshake/hug, talk to reporters and that's that. The player of the game? Stephen Davis, who ran for four touchdowns and 317 yards ... in a game with three-minute quarters. I wish I was kidding. And as for me ... I mean, I was apoplectic. I was ready to go on one of those Dylan McKay-esque benders, the one where he ends up playing someone in pool for $500 a game and buying heroin from a bald guy with a goatee. But then I remembered something, and this is pivotal: Every streak comes to an end. And this Sunday, either New England's 14-game streak goes up in smoke, or we will never hear about this "NFL GameDay" streak again. I'm hoping for the latter. Now, if you'll excuse me, I'm off to chew my toenails. Bill Simmons is a columnist for Page 2 and ESPN The Magazine, as well as one of the writers for "Jimmy Kimmel Live." He'll be updating his Super Blog two or three times per day from Houston.